See All
Colleges >
4 Colleges With Cool Holiday Traditions
4 Colleges With Cool Holiday Traditions
College campuses have their own special holiday traditions for students.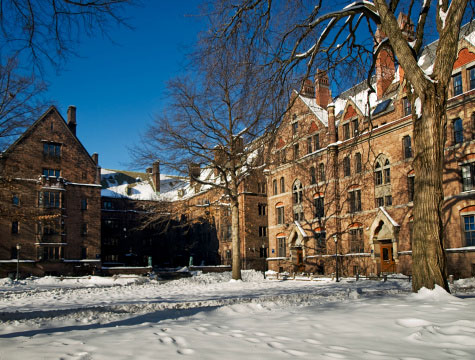 Photo: ThinkStock
Rites of passage and rituals are a long-standing aspect of college life. Whether it's the superstition of passing through Princeton University's Fitzrandolph Gates before graduating to avoid risking the chance of never graduating -- or a duck mascot riding on the back of a Harley Davidson motorcycle before each football game (University of Oregon) -- the fact remains that there is no shortage of time-honored traditions in college. And the same is true for the holidays.
While some colleges lean on the rather typical custom of hosting a holiday feast or dance, others like to mix it up when fall or winter break is looming. (Some even go all out for their Halloween traditions.) Take a look at these four colleges' traditions and see how your school (or prospective college) measures up.
The Boston-based college adopts the attitude of giving during the holiday season with its annual Thanksgiving Day Match-up program. Now in its third year, the goal of the tradition is for faculty and staff to invite any students who will remain on campus during a break, such as international students, into their homes. The gesture is especially important to international students because of the fact that many of them live in areas that do not celebrate Thanksgiving or are too far to visit during a break from school.
While the university's tradition is not exactly one specific to the holidays, it does represent a rather obvious holiday tradition year-round with its Stanford Tree. Word on the street is that after the school was nicknamed Cardinal (like its ruby red school colors) in 1981, the band claimed they did not like the name and decided to create their own mascot. The students chose a 40-lb. Christmas tree costume to fill the role, resulting in the birth of the always hilarious Stanford Tree.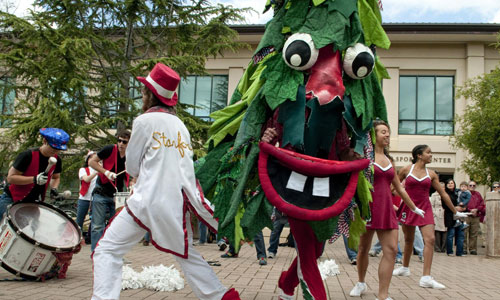 Photo: Stanford.edu
While the average student typically consults an academic calendar to learn of days off from classes, the students at Lebanon Valley College petition for extra time off. Well, that's half of the story. As tradition would have it, if Lebanon Valley wins the football game against their rivals at Albright College, then the football team leads a walk to Kreiderheim, the home of the college president. Once there, the student body petitions to have the day before Thanksgiving off as a reward for the victory. The best part? The more than 50-year long tradition has always been given the go ahead by the president at that time.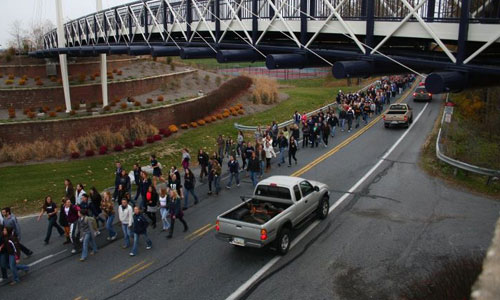 For most college students, nothing screams holidays like the end of finals week. But at Regis University in Denver, CO, the student body has a rather lively way of celebrating the end of exams. Following a week-long 24-hour quiet policy in the residence halls during finals, the students celebrate by yelling, screaming and racing through the halls, followed by a 10 p.m. breakfast where the faculty dishes out food to students. 'Tis the season!
What do you do if your school doesn't yet have a tradition?
Start one! Consult holiday guides for festive activities or research safe practical jokes that have added some fun to other campuses. Consider also researching your school's history and, perhaps, you will discover a ghost story or two. If so, then pair up with a history professor to organize a "Ghosts of Holidays' Past" tour throughout the campus that details the supernatural activities.
Another worthwhile tradition includes giving back to others by organizing a fundraiser or canned food drive. DoSomething.org launched a campaign called Pantry Prep that allows young people across the country to donate to their local food pantry and help victims of natural disasters, like Hurricane Sandy. Start your own collection, by hosting a study group or get together and make the price of admission one can of food. Or set up a collection site in popular hangout spots, like the library, student center and local coffee shops.
"The college community is a natural place for students to rally around issues they care about and make volunteering a social activity that can blend into their everyday activities," said Naomi Hirabayahsi, CMO at DoSomething.org. "Research also shows that whatever the motive, volunteering improves the health and happiness of volunteers. What better way to jumpstart your adult life?"
No matter how you choose to fuse life into your school's customs and rituals, have fun with it and work with your fellow students to create a tradition that will last for a lifetime.
Quick Facts
Take advantage of fun events on campus.
Celebrate the season by doing activities with your friends in between finals.
If your school doesn't have a holiday tradition, start one!
People Who Read This Article Also Read:
How to Get in the Holiday Spirit During Finals
15 Colleges With the Best Social Following
3 Holiday-Inspired Meals You Can Make in the Dorm
DIY Holiday Decor: 5 Festive Dorm Ideas
DIY Holiday Gifts for Your College Friends

Advertisement
Visit Our Student Center

Get on track!
And find out everything you need to know about planning for college.
Advertisement