See All
Colleges >
International Students Choose American Colleges for Higher Education
International Students Choose American Colleges for Higher Education
Find out why studying in the USA has become a growing trend for international students.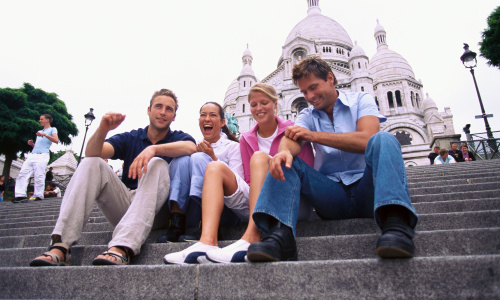 Photo: Thinkstock
Picking a college can be just as exciting as it is stressful, especially if you're an international student looking to broaden your horizons.
For the 2008-2009 academic year, there has been an 8% increase in the number of international students accepted to American universities, creating an all-time high of 671,616.
So, what's behind the big increase?
Read on to find out what U.S. schools have to offer you...
Appeal of U.S. Higher Education
In spite of efforts by countries like Australia and Canada to attract international applicants, America remains the top choice for those looking to expand their education.
The U.S. is known for its challenging university systems with diversity of choice in majors and concentrations. Programs cover virtually all fields of interest, and the U.S. boasts at least ten times as many college campuses than any other country. So the U.S. not only has an abundance of universities to apply to, but a variety of majors to pick from as well.
Certain colleges have higher rates of international enrollment than others - something to consider when deciding where to turn in your applications!
Flexibility is also a major factor in decision making, as U.S. schools allow for students to take classes outside of their major (i.e. if you're studying mathematics you have the option to take courses in a foreign language or an art). In this way, students graduate college with a unique and more well-rounded experience. Specialty departments, such as New York University's Gallatin School for Individualized Study, even allow you to choose concentrations from various departments to come up with a unique major of your own, like the Biology of Dance or Science Marketing. That flexibility is coupled with American colleges being at the forefront of technology, encouraging students to take advantage of innovative equipment and resources at their disposal, (whether it be time spent in a medical lab or in a computer lab with cutting-edge software).
International Students on Campus
Perhaps one of the largest benefits of attending an American university is the emphasis their programs place on transitioning international students into the campus life. Almost all universities have an international student office designed to assist foreign-born applicants. The process usually starts with an orientation program upon your arrival, and extends through the duration of your time in the U.S. with various programs intended to answer any questions regarding financial aid, housing, and future employment options.
Those future employment options are plentiful, as its been reported that foreign students are not only increasing on American campuses, but are transitioning into the U.S. workforce at increasing numbers. In 2005 a new temporary work visa law was introduced that has allowed an additional 20,000 foreign workers to find placement in the U.S.
What Colleges are Best for International Students?
Certain colleges have higher rates of international enrollment than others - something to consider when deciding where to turn in your applications!
The college topping the list of enrollment rates is the University of Southern California, which has an international population that makes up 22% of total enrollment. Other schools with large international enrollments include Columbia University in the City of New York, Harvard University, University of Illinois, Chicago, Boston University, Purdue University, Main Campus, University of California, Los Angeles, University of Michigan, Ann Arbor, The University of Texas System, Michigan State University, and University of Florida.
What Kind of Student Aid Can You Expect?
Being able to pay for the first-class education that a U.S. school can offer is not always an easy task, and many international students can expect to foot the cost of tuition with a lack of scholarship opportunities. Recent regulations have made it even more difficult for foreign-born students to receive funding at some colleges and medical schools.
That being said, the Overseas Association for College Admission Counseling releases a list of schools that provides financial aid for international students every year. Institutions topping the generosity list include Amherst College with an average financial aid package of $45,152, Yale University awarding $45,704, and Reed College with $44,467.
Additionally, many U.S. schools offer teaching and research positions to help finance your education, particularly if you're a graduate student. These programs not only allow for training within your field, but the invaluable experience of meeting faculty who can help you in your future career endeavors.


People Who Read This Article Also Read:
TOEFL Prep For ELL and ESL Students
Students With Disabilities
Deaf and Blind Students
Homeschooling and College: What Options Are Available?
First-Generation College Students
College Planning Guide for Students with Learning Disabilities
IEP Students and College: Planning Your Transition
College Advice For Students With A 504 Plan

Advertisement
Visit Our Student Center

Get on track!
And find out everything you need to know about planning for college.
Advertisement