See All
Colleges >
College Matching vs. College Rankings: Which Matters More?
College Matching vs. College Rankings: Which Matters More?
Discover why college matching may matter more to you when deciding where to apply.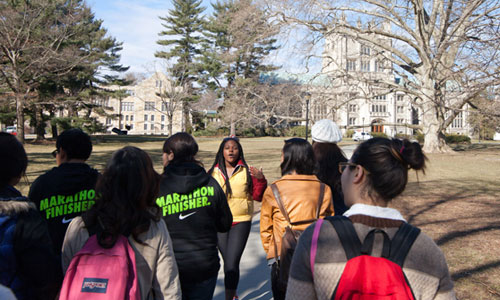 Many people use college rankings as a resource when deciding where to apply. However, these rankings do little to help you decide which schools are actually right for you. The criteria that publications like U.S. News, Princeton Review, and Forbes use to rank colleges doesn't include subjective factors like location, cost, and types of majors and programs available and how that relates to you specifically. In other words, they're a good starting point, but you'll still need to figure out how these rankings work in combination with all the things you'll want in a college.
This is where college matching comes in. Looking for a college match means choosing to apply to schools that meet your specific preferences and needs, regardless of whether or not they're highly ranked. While you can use rankings to begin your college search, they aren't the only way you should look for schools because they can provide a superficial view of colleges. A top ranked biology program may be located in a city that lacks other things you need in a college.
By considering what you want in a college, rather than what others see as important, you will find a school where you're successful and happy. After all, it's your preferences that matter!
Issues With Rankings
Unfortunately, some of the overall college rankings are skewed because of how important they've become in a school's ability to attract students. In order to rank well, colleges are putting money toward big buildings and fancy facilities rather than education and affordability. Schools are desperately trying to look like Harvard by "embracing high tuition, excessive construction projects, and massive undergraduate debt" as Washington Monthly put it. Unfortunately, as Penn State president Graham Spanier points out, doing so has caused the rankings to become "a measure of wealth: institutional wealth, how big is your endowment, what percentage of alumni are donating each year, what are your faculty salaries, how much are you spending per student."
This causes a school to gain a perceived academic reputation that's not always based on quality or value, causing students to accrue crippling amounts of debt by flocking to colleges they can't afford.
The problem is so widespread that President Obama has proposed a plan to rate colleges based on factors like graduation rates, graduate debt and earnings, tuition, and amount of low-income students. If the plan gains approval, federal financial aid will be partly based on these rankings, and colleges will hopefully be rewarded for their actual value.
What Goes Into the Current Rankings?
You have to understand what goes into the current rankings in order to be smart about approaching them. Check out some of these criteria – we think you'll see why rankings will factor less into your decision about whether or not a school is a good match for you.
Student Selectivity
Rankings sites like U.S. News give colleges higher rankings if the majority of their students graduated at the top of their high school classes and got high scores on standardized tests. This may or may not mean that a highly-ranked college is right for you. For example, if you're an artist or athlete who struggled with standardized testing and certain subjects in high school, being surrounded by highly academic individuals may not be the best fit for you. It may make more sense to go to a school that's artistically or athletically inclined even if it's technically less "prestigious." What matters most is that the school has the right environment and programs for you to succeed at what you do best, not how accomplished your classmates were in high school.
Try looking at top-ranked programs, instead of schools, and then comparing your academic stats to see where you would fit in. Finding the best programs that fit your eligibility will help you find a college match. This is a much better approach than trying to fit in somewhere that is selective and may lack the programs, environment and level of academic rigor that's best for you.
Financial Resources and Alumni Giving
U.S. News's financial resources criteria calculates how much a school spends on each of their students, and the alumni giving rate is an indication of how much the school receives from past students. However, none of this necessarily relates to your own personal finances. A school may have a lot of resources, but high tuition and little to give as far as financial aid. When assessing whether or not a college will be affordable for you, it's much more important to look at its tuition costs and financial aid packages than its ranking.
Consider how much you're able to pay for a college, what your ideal financial aid package would be and how much you could receive from the school.
Why College Matching Matters
Truthfully, attending a "prestigious" school doesn't necessarily mean that you'll get a better education. In fact, the quality of your education will vastly improve if you choose a school and program that is actually right for you. College matching gives you the power to personally rank schools according to your own preferences and needs.
You don't have to subscribe to an arbitrary ranking system that a lofty publication designed. Create your own! You can and should consider factors like location, size, cost, financial aid and strength of specific programs in deciding where you'll be successful. At the end of the day, your personal success is what matters most!
People Who Read This Article Also Read:
How to Find a College Match
Mistakes to Avoid When Finding a College Match
Is a College's Prestige Important?
College Match Questions: Choose a Location
Advertisement
Visit Our Student Center

Get on track!
And find out everything you need to know about planning for college.
Advertisement