See All
Colleges >
African International Students
African International Students
Learn about making the transition to studying in the USA.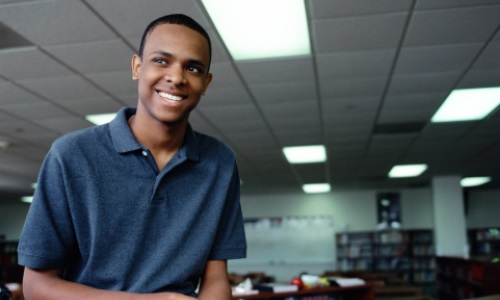 Photo: Thinkstock
The United States has traditionally been a top destination for African students who wish to study abroad.
Many Africans leave their home country to pursue higher education in a different region because there are not enough post-secondary institutions to accommodate everyone who is eligible to attend.
IIE reports that the US was the top choice for Nigerian international students.
They are lured to the US with promises of lower tuition rates and higher-quality degree programs. Unlike international students from some countries (India for example), the majority of African students wish to stay in the US after graduation because of more job opportunities and higher wages.
African International Students in America
In the 2009-2010 school year, the US saw a 3 percent increase in African international students. According to the Open Doors Report published by the Institute of International Education (IIE), 37,062 African students were studying in America in that year.
The majority (32,121) of African international students come from the sub-Saharan region of the continent, which includes:
Nigeria
Kenya
Ghana
Cameroon
South Africa
Another survey conducted by IIE reports that the US was the top choice for Nigerian international students, and that some of the incentives for attending college in the US are a wide range of school programs, abundant scholarship opportunities and good student support services.
Other countries with a high concentration of African students studying in the US include Egypt, Libya and Zimbabwe.
Colleges for African Foreign Students
Many African students are attracted to campuses that have a high percentage of international students. It is understandable, as the transition is not easy.
The colleges and universities in America that attract the most international students are:
It's also a good idea to find out which institutions have African Student Associations (ASA). ASA is an organization that provides students with social and cultural activities on and off campus. A few schools with active ASAs are the University of Washington, Howard University, Indiana University and Texas A&M University.
Statistics show that South African students are most interested in studying business management, engineering or fine or applied arts. Nigerian students are also interested in engineering and business management as well as physical and life sciences. Most of the jobs one can obtain after graduating with degrees in these fields include lucrative starting salaries, which are an attractive option for students.
Applying to Colleges in the US
The application process for African international students is similar to that required for American students.
The major requirement is that you must have earned the equivalent of a high school diploma for undergraduate programs, and at least a bachelor's degree for graduate programs.
You will also be required to take an entrance exam like the SAT, ACT, GRE, GMAT, LSAT or MCAT, depending on your chosen degree program.
The Test of English as a Foreign Language (TOEFL) measures your English language skills. Most colleges require a minimum TOEFL score as well, though it's possible to find a program that admits students on a conditional basis.


People Who Read This Article Also Read:
How to Apply to College as an International Student
Student Visas
International Exchange Programs
Prospects for International Students After Graduation
Top Schools for International Students
EU International Students
Indian International Students
Middle Eastern International Students

Advertisement
Visit Our Student Center

Get on track!
And find out everything you need to know about planning for college.
Advertisement