See All
Colleges >
How to Prepare for the GMAT
How to Prepare for the GMAT
Helpful tips to relieve GMAT test day anxiety.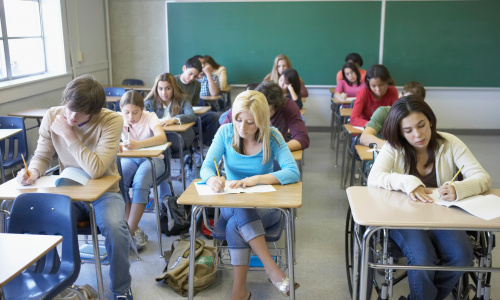 Photo: Thinkstock
It's normal to be nervous about taking the GMAT. It's one of the important aspects of getting into MBA programs. But some of your anxiety can be relieved by making sure you prepare for the test to the best of your ability. Depending on your level of knowledge in quantitative and verbal reasoning, you will need to start studying one to three months in advance.
The creators of the GMAT, the Graduate Management Admission Council (GMAC), offer several preparation tools to help business school applicants. GMAT Focus is a practice test that mimics the format of the real test and provides you the option of taking a timed test, which is a great way to prepare for the big day.
Taking a practice test will help you identify the sections where you thrive and those that you need some more work on
You can start prepping for the GMAT as early as when you graduate from high school. Actually, the earlier on in your postsecondary education you take the test, the better you will probably do. The reason for this is that much of the skills tested are subjects that you learned in middle and high school. If you did not take any statistics or economics classes in high school, however, you should wait until after you take these courses in college.
Action Steps for Preparing for the GMAT
Create a GMAT Study Schedule
Creating a schedule for studying for the GMAT is essential to being prepared come test day. Figure out a schedule that works for you. It is recommended to also schedule time for exercise, social interaction and relaxation as these are crucial to maintaining a healthy mind, body and soul.
Too many test-takers burn themselves out by waiting until the last minute to study. Don't let this be you. You want to go into test day with confidence, clarity and plenty of rest.
Understand the GMAT Computer Adaptive Tests (CAT)
The GMAT is a CAT, which adapts each question's level of difficulty by how you answered the previous question. This means that the first question you receive on the test is of average difficulty. If you get it right, the next question will be slightly more difficult. The level of difficulty continues to increase with each correct answer. Once you get an answer wrong, the questions get easier.
When taking your test, if you feel you are doing well, don't get too hung up on the fact that you might receive easier questions mixed in with the difficult ones. GMAC mixes experimental questions in with the regular questions in order to help define what level the questions are considered once they are permanently added to the test.
GMAT Prep Courses
There are GMAT prep courses offered by private companies. The most well-known are offered by Kaplan and the Princeton Review. However, there are several reputable independent companies that also offer GMAT prep courses.
Each prep course is formatted differently. Some are offered one-on-one, while others are classroom based. The type of program you choose is dependent on the how you learn best.
Take a Practice GMAT
This will help you for several reasons. It will allow you to familiarize yourself with the test directions, so you don't have to waste time reading them on the day of the test. Beyond knowing the directions, you will have a better idea of the types of questions you are expected to answer.
Some practice tests offer the option to use the CAT format. While other practice tests may still provide you with good examples of the types of GMAT questions, taking a test that uses CAT will help you understand how to pace yourself come test day. Each test-takers pace is going to be different. However you should try to move as quickly as you can.
Taking a practice test will help you identify the sections where you thrive, and those that you need some more work on. While you may be confident in your overall academic skills, there is always room for improvement. Be careful of being overly confident of your skills, especially in the data sufficiency section, as there is no other standardized test that uses this format.


People Who Read This Article Also Read:
Graduate Management Admission Test (GMAT): The Basics
GMAT vs. GRE
Ten Tips for Taking the GMAT
Should You Take a GMAT Prep Course?

Advertisement
Visit Our Student Center

Get on track!
And find out everything you need to know about planning for college.
Advertisement