See All
Colleges >
Top Culinary Arts and Food Service Careers
Top Culinary Arts and Food Service Careers
Find out how easy it is to start your culinary arts career with the right education.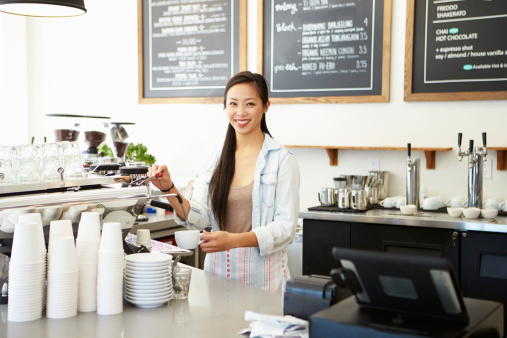 Photo: ThinkStock
By Merrissa Saunders
Is the Food Network always on in your house? Do your friends and family shower you with shiny, new cookware for your birthday? Have you considered charging your family for dinner each night because your food is just that delicious? If you answered yes to these questions, then a culinary arts career might be for you.
Keep in mind that preparing food in a professional kitchen and cooking at home are worlds apart. Restaurants and industrial kitchens are usually fast-paced and hectic, and you must be flexible and adaptable to keep up in this work environment. Crafting edible art is a gift, and you must also have a deep set passion for food in order to thrive in this field.
Most applicants to culinary arts school aspire to be a professional chef at some point, but you must cook your way to the top in the culinary world.
Due to a high turnover rate, culinary arts jobs are expected to be plentiful. However, competition is projected to be keen for positions in upscale and popular restaurants where the tips are higher.
Training is not necessary for this field, but it will significantly increase your chances of getting well paying job and help you advance in your career at a faster pace. Masters programs in culinary arts are not common, and are reserved for the ambitious chef who is looking to advance to an executive role.
Culinary Arts
Studying culinary arts provides you with a general background in cooking and other culinary techniques. Food preparation, equipment operation and maintenance and sanitation are a few of the subjects covered in culinary arts school. Most applicants to culinary arts school aspire to be a professional chef at some point, but you must cook your way to the top in the culinary world. Many recent culinary arts graduates will still have to start in food preparation, fry operators, or sauté cooks, depending on your skill set and the restaurant in which you are hired.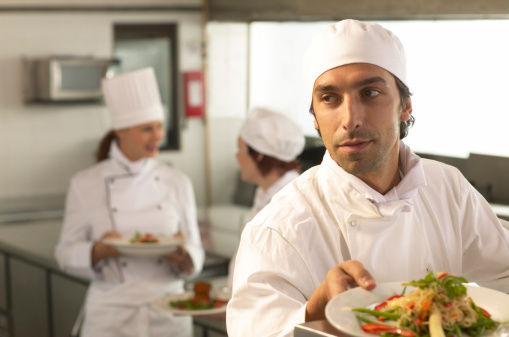 Photo: ThinkStock
To obtain an entry-level job in culinary arts, you have the option of completing a 1 to 2-year certificate or associate's degree program at a career training, trade school, or community college. The level of training you choose depends on your desired profession. If you aspire to be an executive chef, head cook or sous chef, you should seek a bachelor's degree or master's degree in culinary arts. Bachelor's degree and master's degree programs in culinary arts prepare students for managerial positions within the food service industry. For this reason, some students also pursue a minor in business management.
Baking and Pastry Arts
Those who excel in baking and pastry arts must have a creative flair and be able to follow directions precisely. There are many two-year associate's degree programs available for baking and pastry arts. Baking and pastry arts school involves mostly hands-on training in baking, decorating and health and safety regulations. The written courses include the study of nutrition, ingredients and applied chemistry.
Many applicants pursue an associate's degree and this will allow you to transition to most entry-level positions such as a baker's assistant. Also to aid in a fast transition into a job, most programs have a mandatory internship program that provides you with valuable on-the-job training.
Food Services
If you want to get into the food service industry, but don't feel confident in your skills, a degree in food service is your perfect choice. Though this specific position does not require post-secondary education, there is expected to be fierce competition for jobs in fine dining and popular restaurants. This is because most food service employees rely mostly on tips for their income. Certificates and associate's degrees are the only available options for the food service profession. Choose one of these options in order to gain employment in fiercely competitive upscale restaurants.
Quick Tips
Internships and mentorships are an important part of your culinary arts school experience. Check your prospective schools to make sure they have an internship program built into their curriculum.
Admissions to nationally accredited culinary arts colleges like Le Cordon Bleu and the French Culinary Institute have become stricter. To ensure you receive a spot in your school of choice, go to the interview prepared to discuss your passion for food.
Culinary arts schools that have celebrity chefs alumni tend to fill up much quicker, so remember to do your research and apply early.
People Who Read This Article Also Read:
In Demand Careers in Technology
In Demand Careers in Business
In Demand Careers in Health & Medical Services
Top 25 Fastest Growing Industries
Top 25 In Demand Jobs and Fastest Growing Occupations

Advertisement
Visit Our Student Center

Get on track!
And find out everything you need to know about planning for college.
Advertisement