See All
Colleges >
5 Tips for LGBT Dating in College
5 Tips for LGBT Dating in College
Being LGBT in college doesn't have to spell disaster for your dating life.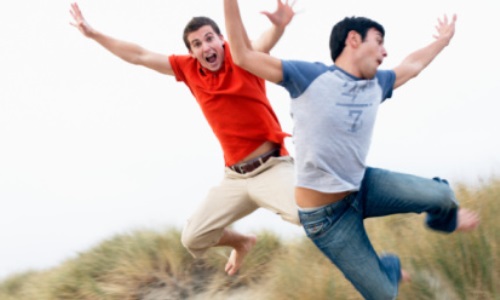 Photo: Thinkstock
When you're an LGBT student in college, you might feel like you have fewer options for finding a date compared to your heterosexual classmates. It's true that there are certainly a few more challenges for dating within the LGBT community in college.
Some of the challenges with LGBT dating in college may have to do with the school you attend or the place where your college is located. For example, what if your school has a very small LGBT student population? What if you attend school in a small town with no gay bars? Meanwhile, students may also have to deal with prejudices or judgments from their classmates.
Whatever the case may be, don't let those obstacles discourage you. Instead, be proactive about your dating life. The following are five ways for LGBT college students to improve their options on the dating scene.
1. Join Advocacy Groups
One of the quickest and easiest ways to meet other LGBT students on campus is to join an advocacy group. Most colleges today have a Gay-Straight Alliance club, Gay Rights Advocacy Group or other student group that deals with LGBT issues. Check out which clubs your college has to offer and consider signing up. The more involved you get, the more you'll get to know about the other people in your group to see if sparks fly with anyone. Being able to join groups with people who share similar interests or backgrounds is a huge advantage of attending college, so take advantage of it.
2. Find Gay-Friendly Local Businesses
Another way to meet other people in the LGBT community is to look for local bars, restaurants, cafes and shops which are particularly gay-friendly. This will be a snap in most urban areas, but you may have to do a little more research in smaller towns. The pay-off is worth it, though: these establishments are great places to not only meet potential matches – they also make a great location for a date.
3. Go Online
You can also put your dating life on the fast track with the help of online dating services. Students looking to use these sites to improve their love life will find that, although there are plenty of LGBT-only online dating services, some of the most popular sites among heterosexual students are actually just as effective.
According to Consumer Rankings, Match.com and Chemistry.com ranked the highest in number of gay users and satisfaction ratings for gay singles. You can also try Gay.com, which is another popular choice for LGBT singles. If you want to stick to other students, try DateMySchool.com, which accommodates both heterosexual and LGBT users.
4. Meet People Off Campus
One of the major challenges for some students is having a small LGBT student population at their school. For example, even at a liberal-leaning school like Rice University, less than 14% of students identify as something other than heterosexual (homosexual, bisexual, etc.). Therefore, you may need to venture off campus to find a potential date.
Try going to local gay bars or other gay-friendly establishments to strike up a conversation with potential matches. You can also join a group or club outside of school to widen your social circle a bit. It doesn't have to be related to LGBT causes – just aim to meet new people. Even if you just make new friends, those friends may be instrumental in introducing you to other potential dates outside of your student population.
5. Pay Attention to Personal Interactions
Heterosexual students have it easier in many ways, but one of the most significant advantages they have is the basic cultural assumption that most people are heterosexual. As a member of the LGBT community, you probably already realize that a significant challenge in your dating life is figuring out who is straight and who's not.
In these situations, LGBT students are advised to pay attention to the subtleties of your personal interactions. Strike up a conversation and make eye contact. See if the person you're talking to is responding. It takes a little more effort to be hyperaware, but it could help you find a potential match in the place where you least expect it.
Quick Tips
The Campus Climate Index is an excellent source for locating information about various colleges' records on LGBT issues.
Look for local LGBT singles meet-ups and other LGBT dating events in your area on sites like MeetUp.com as an additional way to meet potential dates.
Don't forget to focus on the whole college experience, not just your love life. Take interesting classes, join sports teams and clubs and meet new people. There's a good chance that immersing yourself in the college experience could lead you to an eventual romance anyway.
People Who Read This Article Also Read:
10 Best Colleges for LGBT Students
5 Best Sites for College Online Dating
6 College Dating Safety Tips
8 Resources for LGBT College Students
Advertisement
Visit Our Student Center

Get on track!
And find out everything you need to know about planning for college.
Advertisement