See All
Colleges >
Is an Online MBA for me?
Is an Online MBA for me?
Learn about getting an online MBA.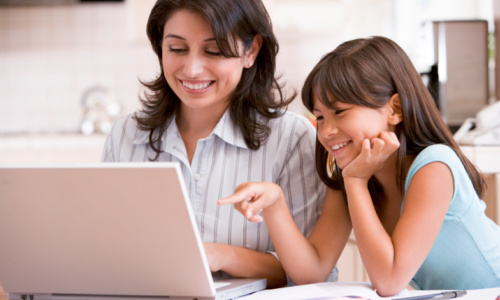 Photo: Thinkstock
Attending business school to earn your MBA is a huge commitment of energy, time and money. Graduate students pursuing their MBA know that they have to make sacrifices in their work, family and social lives in order to put their focus on earning their degree. Today, many adult students are turning to earning an MBA online so that they do not have to give up as much of their normal lives.
An online MBA can open up doors for your career. You may be an assistant who wants to earn a promotion to manager. Maybe you desire to open up your own business, or to become an entrepreneur. If management is in your future, an online MBA can help you achieve your goals.
Make sure the schools you are applying to are accredited.
Having an MBA on your resume can give you a leg up against other job applicants with less education and experience. It shows employers that you come to the job with prior business knowledge.
Online MBA vs Traditional MBA
MBA programs emphasize practice in problem solving real-world management situations. Reputable online MBAs are just as rigorous and challenging as a traditional MBA program at a respected bricks-and-mortar business school.
The main difference between the two types of MBA programs is that online courses allow you to complete your assignments during the times that work best for your schedule. You will still have assignment deadlines, but are typically not required to "sign-in" to class at one particular time.
Instead of attending class for a lecture from your professor, you might watch or listen to a pre-recorded lecture online. Class discussions are typically held in a chat forum. Some online programs require students to attend classes or workshops on campus, so be sure you understand any residency requirements your program may have.
MBA Online Tuition
The cost of your tuition for earning an online MBA depends on the school you choose. Generally, online schools are less expensive than attending a traditional bricks-and-mortar school. You do not have to pay for on campus housing, facilities or the money it costs to commute. Tuition varies significantly, but most online schools cost between $10,000 and $30,000.
There are few scholarships and grants for online MBA students, which means you will have to pay for your tuition out-of-pocket. There is less funding available for federal financial aid for graduate school. However, eligible students may be able to receive federal financial assistance.
Will My Online MBA be Respected by Employers?
When searching for a job after graduation, each employer should consider your MBA on the same level as if it were earned on campus. Do your research when deciding on an online school. Make sure the schools you are applying to are accredited. Check out the professors, curriculum, job assistance and what types of careers alumni have pursued.
"Diploma mills" are online schools that allow students to purchase degrees. They are usually unaccredited, or accredited by a fake institution. Your online MBA program should be regionally accredited, as this the type of accreditation that is most accepted by employers. There are six regional accrediting agencies:
Middle States Commission on Higher Education: Delaware, District of Columbia, Maryland, New Jersey, Pennsylvania, Puerto Rico, Virgin Islands
New England Association of Colleges and Schools: Connecticut, Maine, Massachusetts, New Hampshire, Rhode Island, Vermont
North Central Association of Colleges and Schools: Arizona, Arkansas, Colorado, Illinois, Indiana, Iowa, Kansas, Michigan, Minnesota, Missouri, Nebraska, New Mexico, North Dakota, Ohio, Oklahoma, South Dakota, West Virginia, Wisconsin, Wyoming
Northwest Association of Accredited Schools: Alaska, Idaho, Montana, Nevada, Oregon, Utah, Washington
Southern Association of Colleges and Schools: Alabama, Florida Georgia, Kentucky, Louisiana, Mississippi, North Carolina, South Carolina, Tennessee, Texas, Virginia
Western Association of Schools and Colleges: California, Hawaii, the Pacific Basin
In addition to regional accreditation, you can make your resume stand out if the Association of Advance Collegiate Schools of Business (AACSB) accredits your online MBA program. This is a professional accreditation agency for all bachelors, masters and doctoral degree programs in business administration.
If you follow those steps, you should have no problem getting your MBA recognized by employers.


People Who Read This Article Also Read:
Types of MBA Programs
Top 10 Tips on Applying to an MBA Program
Should I Earn a Masters Degree or an MBA?
MBA: Is It For Me?
Top 10 Online MBA Schools
How Hard Are MBA Programs?
Is Medical School in Your Future?
PhD Programs: Overview

Advertisement
Visit Our Student Center

Get on track!
And find out everything you need to know about planning for college.
Advertisement