See All
Colleges >
Business, Office Machine Repair Colleges
Business, Office Machine Repair Colleges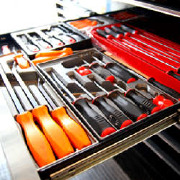 Learn to maintain and repair a variety of office machines, including typewriters, word processing and dictation machines, calculators, data processing equipment, duplicating machines, and mailing machines. Students of these programs study diagnostic techniques, the use of testing equipment, and the principles of mechanics, electricity, and electronics as they relate to the repair of business machines.
Business, Office Machine Repair Colleges
Quick Search: Find the College that's Right for You!
Advertisement