See All
Colleges >
Bartending/Bartender Colleges
Bartending/Bartender Colleges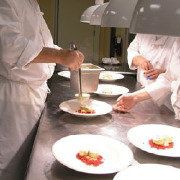 This two year program prepares individuals for the exciting, fast-paced job of professionally preparing mixed alcoholic and non-alcoholic beverages and related products. A degree or certificate in bartending includes instruction in bar and lounge management, beverage service operations in the hospitality industry, mixology, oenology, accounting and cash management, inventory and cellar management, bar and lounge management, applicable laws and regulations, customer service, and labor/employment regulations.
Bartending/Bartender Colleges
Quick Search: Find the College that's Right for You!
Advertisement