See All
Colleges >
Interior Design Colleges
Interior Design Colleges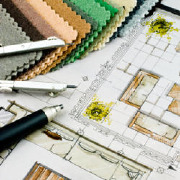 Interior Design majors learn how to create indoor spaces that are both functional and visually pleasing. From creating floor plans to deciding where to place outlets, this major isn't only about choosing paint colors, wall treatments and furniture. Interior Design school teaches you both creative and technical skills. If you wish to only focus on the more technical aspects of Interior Design, consider studying Interior Architecture instead.
Programs in Interior Design take two to four years to complete. While most students in the major pursue a bachelors degree from a college or university certificate programs, associates degrees and masters degrees are also available through technical schools, career colleges, community colleges, 4-year colleges, online schools and universities. In general, programs include classroom, studio and field work.
Because you'll be helping individuals create their dream spaces, you should be good with people, flexible and diplomatic. Creativity and an eye for design are obviously key for Interior Design, but math skills for budgeting can help, too.
Find Schools Offering Interior Design Degree Programs
Choosing an Interior Design School
You can find a variety of Interior Design schools nationwide including technical schools, career college, community colleges, online schools, 4-year colleges and universities. Some programs focus more on technical aspects of interior design, while others focus on the visual effects, make sure you pick a program to match your interests. You should also examine class sizes, studio facilities and computer lab software to make sure you'll get the attention and up-to-date skills you need to succeed in the field. If you can, find out what recent grads are doing or check out their school projects.
Interior Design Degree Programs
Most Interior Design majors seek a bachelors degree from a college, online school or university, which will give you the best job prospects upon graduation. After graduating from an Interior Design bachelors degree program you'll often need to complete a 1 to 3 year internship in the field. You can also take a licensing exam at that time.
For added expertise you can pursue a masters degree in Interior Design. Certificate programs and associates degree programs are also offered at technical schools, community colleges, career colleges, online schools, 4-year colleges and universities. However, lower level degrees often won't give you the qualifications needed for top paying and more advanced positions.
Interior Design school includes course that teach you the technical and visual skills you need to create residential and commercial indoor spaces. You can expect classes in color and fabrics, furniture design, computer-aided design (CAD), spatial planning, ergonomics, drawing, psychology and architecture.
Interior Design Degree Programs:
Online Interior Design Degree Programs at Online Schools
You can earn an online degree through the online school of a technical schools, career college, community college, 4-year college or university. Because you'll need to learn career-specific software, you may need to complete some coursework in on-campus computer labs. However, for some Interior Design majors, online school offers an opportunity to complete an online degree at home and on a flexible schedule.
Online Interior Design Degree Programs:
Online Interior Design Schools:
High School Preparation
You can prepare for Interior Design college while you're still in high school. Take as many art, design and computer application courses as you can, especially any in computer-aided drafting. AP Art History can look favorable on your college application, too. Look for an internship or part time job at a local interior design firm or furniture store. Reading interior design magazine and watching home makeover shows can give you a background of styles and trends in the industry.
Find Schools Offering Interior Design Degree Programs
Popular Careers in the Field of Interior Design
Careers for Interior Design degree-holders are growing, but competition is still fierce. About one quarter of all interior designers are self-employed, others find work in design firms, sales, home furnishing stores, residential building companies, architectural services and building supply dealers. To find more jobs, look to the hospitality industry including restaurants, hotels and resorts and the health care industry. Interior designers earn an average of $32,000 to $57,000 annual, with the highest salaries going to careers in architectural, engineering and related services.
Employers often favor licensed interior designers. Some states offer a license to interior designers to give them a certified, register or licensed interior designer title. To take the exam, you must have at least six year of education and experience combined.
To increase your job prospects and earning potential stay up to date on the latest computer-aided design software. Having a specialty can open more doors too, such as kitchen and bath, home theaters or indoor gardens. Proven knowledge of safety codes, environmental design and architecture and engineering basics can help, too. Interior designers can advance their careers by moving into chief designer roles at design firms or starting their own interior design business.
Find Schools Offering Interior Design Degree Programs
Top 10 Most Popular
Interior Design Colleges
Advertisement