See All
Colleges >
Food Services Colleges
Food Services Colleges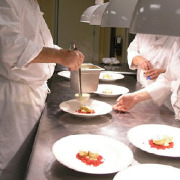 Food Services majors learn how to prepare and serve food and build skills in customer service, menu planning, math, business and management. A college education in Food Services can lead to a career as a chef, cook, food preparation worker or food services manager.
Programs for this major last from a few months to four years or more and are found at a variety technical schools, career colleges, online schools, community colleges, 4-year colleges and universities, some of which focus solely on culinary arts. Many students earn an associates degree or bachelors degree from a cooking school. Others choose to enroll in certificate programs. Masters degrees are also offered by some schools.
You'll need more than just a love for food at Culinary Arts school. Good candidates for the Food Services major should have manual dexterity for chopping, cutting and preparing food. You'll also need to be energetic, quick and efficient. Teamwork and communication skills usually come in handy, too. With these skills you should also consider Foodservice Systems Administration/Management, Restaurant & Catering Management and Restaurant & Food Services.
Find Schools Offering Food Services Degree Programs
Choosing a Food Services School
You can find certificate, associates degree, bachelors degree and masters degree programs in Food Services at schools around the country. Start by deciding what type of school you want to attend whether it's a technical school, career college, community college, online school, 4-year college or university. Depending on the type of career you want, a focused culinary arts school may be a better choice than a traditional college or university. Find out what the kitchen classroom facilities look like and review course schedules before you select a school. You may also want to find out what recent graduates are doing now and whether or not career placement services or internship programs are available.
Food Services Degree Programs
Degrees in Food Services can take a few months to four years or more to complete. Degree programs are offered at traditional colleges and universities as well as culinary arts-focused technical schools, career colleges, community colleges, online schools, 4-year colleges and universities. Most of your college career will be spent in the kitchen, practicing your cooking skills.
Shorter certificate programs include courses in cooking procedures, kitchen safety and food handling and sanitation to prepare you for a career as a food preparation worker, fast food cook or short-order cook.
However, for a higher paying career as a chef or line cook, most students enroll in longer programs or college and university associate or bachelors degree programs. With more school, you'll benefit from added training in a variety of cooking methods, cutting and slicing methods for different foods, menu planning, food storage, portion control and nutrition. Longer programs also give Food Service majors a chance to pick a specialty such as French cooking or cooking for parties.
If you're interested in working as a food service manager, look for degree programs that include purchasing and inventory methods, kitchen management and business courses. Attending a college or university program rather than a specific culinary arts career college can give you a broader liberal arts and business background, which is beneficial for students who hope to run or own a restaurant in the future.
Food Services Degree Programs:
Online Food Services Degree Programs at Online Schools
Most online degree programs in Food Services focus on management roles and courses. As you can imagine, learning kitchen skills through an online school can be challenging. However, if you've already completed a cooking skills program, you can learn accounting, management, law and industry skills from an online school to earn an online degree in Food Services.
Online Food Services Degree Programs:
Online Food Services Schools:
High School Preparation
If you want to study Food Services in college, take as many cooking and nutrition classes as you can in high school. If your school doesn't offer any, you may be able to find other places to learn cooking skills in your community. Even chemistry can help you understand nutrition and how recipes are created. If you have hopes of owning a restaurant in the future, take business classes. And, get hands-on experience by taking a part time job at a restaurant or café.
Find Schools Offering Food Services Degree Programs
Popular Careers in the Field of Food Services
The field of Food Services includes a broad range of careers from line cooks who slice and dice all day to top chefs who create menus and prepare food at five start restaurants. For this reason, salaries and employment prospects vary greatly, too, though jobs should be easy to find for most. In general annual salaries range from $15,000 to $47,000 and hourly wages range from $7 to $17 per hour.
Entry-level kitchen staff such as food preparation workers of short-order cooks often find part time jobs and earn wages on the low end of the spectrum. Work environments include fast food restaurants, corporate or hospital cafeterias, restaurants, high-end establishments and catering businesses. With experience, you can advance your career by scoring jobs at high-end establishments and building skills on the job that will qualify you for other positions.
Chefs, executive chefs and head cooks earn some of the highest salaries in Food Services. The more training you have when you enter the workforce, the better. Also, any special cooking styles or skills will give you an edge when looking for jobs. The highest paying jobs are executive chef and head cook positions at high-end establishments and hotels, with metropolitan and resort areas offering the best opportunities.
Other Food Services degree-holders go into food service management running restaurants, managing cafeterias and supervising kitchen staffs. Annual salaries general fall between $34,000 and $55,000 for these positions.
Find Schools Offering Food Services Degree Programs
Top 10 Most Popular
Food Services Colleges
Quick Search: Find the College that's Right for You!
Advertisement