See All
Colleges >
Graphic Design Colleges
Graphic Design Colleges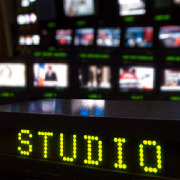 Graphic Design majors learn how to create images that convey ideas for ads, books, magazines, catalogs, media, web and other projects. Most Graphic Design students seek a bachelors degree from a college, online school or university. However, some students study at technical schools, community colleges and career colleges and earn associates degrees, certificate programs and masters degrees.
Successful Graphic Design majors are not only creative, but also they're computer savvy. You should have a good eye for design and the ability to create digitally. Teamwork, organizational, problem-solving, communication and math skills can also help.
With skills like these you should also consider other college and university Communication & Media majors: Animation & Video Graphics; Advertising; Audiovisual Technician; Broadcast Journalism; Commercial & Advertising Art; Communication and Media Studies; Communication Studies/Speech Communication and Rhetoric; Communication, Journalism and Related Programs; Design & Visual Communications; Design and Applied Arts; Digital Communication and Media/Multimedia; Film/Video & Cinematography; General Journalism; Health Communication; Illustration; Mass Communication/Media Studies; Organizational Communication; Other Journalism; Photography; Photojournalism; Political Communication; Public Relations; Advertising; and Applied Communication; Public Relations/Image Management; Publishing; Publishing & Digital Imaging; Radio & Television Technician; Radio and Television; Radio, Television, and Digital Communications; Recording Arts Technology.
Find Schools Offering Graphic Design Degree Programs
Choosing a Graphic Design School
You can find Graphic Design programs at technical schools, career colleges, community colleges, online schools, 4-year colleges and universities nationwide. Choose your school based on the type of degree you want to earn—certificate, associates degree, bachelors degree or masters degree. Because knowing the latest computer design software and applications is key, check out labs and design studios and find out if classes are available in web design and animation.
Graphic Design Degree Programs
Because most entry-level Graphic Design positions require a bachelors degree, most students seek bachelors degrees at colleges, online schools or universities. Programs include classes in computerized design, typography, studio art and principles of design. You'll also take liberal arts based courses in subjects like sociology, art history, writing and marketing—all of which can come in handy during your career.
You can pursue associates degrees and certificate programs at technical schools, career colleges and community colleges, too. Two to three year programs focus more on the technical and design aspects of Interior Design without any liberal arts courses. After graduation, you'll be able to work as an assistant or technical interior designer.
To boost expertise and earning potential consider a masters degree program in the Graphic Design major. This is also a good option for students holding a bachelors degree in an alternate subject.
Graphic Design Degree Programs:
Online Graphic Design Degree Programs at Online Schools
You can also find reputable Graphic Design programs at online schools. To earn an online degree, you'll take classes in art and design on your own time through web-based courses at an online school. Some online school programs may require in-person computer lab or studio work to earn an online degree in this major.
Online Graphic Design Degree Programs:
Online Graphic Design Schools:
High School Preparation
To prepare for Graphic Design school, take as many art classes, including art history, as you can to learn about color theory and perspective. Computer applications and ability will be important, too, so learn plenty of programs at school and at home. Extra curricular activities such as the yearbook or school newspaper can give you a chance to practice Graphic Design, and these activities will look good on college applications.
Find Schools Offering Graphic Design Degree Programs
==Popular Careers in the Field of Graphic Design== Graphic Design degree-holders can find work in a variety of fields. Careers are found in advertising firms, publishing companies, specialized design services, motion picture studios, computer system design firms and printing and related services. Freelance work is also common for graphic designers. Average yearly salaries range from $30,000 to $53,000.
Even though Graphic Design jobs are expected to grow, the competition to get those jobs is tough. Possessing a bachelors degree gives you an edge immediately. If you have a broad liberal arts education and business management or marketing skills, you'll be more likely to score positions with advertising and communications firms.
Up-to-date expertise in computer design software can entice employers, especially if you have web design and animation skills. Graphic Design careers focused on interactive media including mobile applications, video games and web sites is expected to see the highest demands.
More advanced positions go to graphic designers with more experience. Later, you can seek supervisory positions as a creative or art director or lead designer. Some Graphic Design degree-holders also start their own business or go into teaching for a change of pace in their careers. You can also look for opportunities in related careers such as Desktop Publishers, Film and Video Editing, Advertising and Promotions Managers, Broadcast Technicians and Commercial and Industrial Designers.
Find Schools Offering Graphic Design Degree Programs
Most Popular
Graphic Design Colleges
Advertisement