Advertising Colleges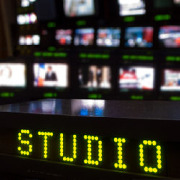 Advertising majors learn the art of promoting and selling products and services. Students in this program will learn all sides of the business including managing clients, selling ad space, ad copywriting, market research and consumer psychology, public relations and planning a media campaign.
Usually, Advertising majors pursue a bachelors degree from a college or university. Masters degrees are commonplace for those looking for high-powered careers as well. However, certificate and associates degrees are also available to Advertising students and are popular for copywriting and ad sales careers.
Communications skills are key for Advertising majors. You should also be in tune with pop culture and trends to understand what consumers are interested in. If you speak a foreign language it will help you in international advertising work. As the industry turns toward the Web, computer skills can take you far. In this program, you'll need to work well under pressure and deadlines. Being filled with ideas and not afraid to speak your mind are important for the creative side of the business.
Find Schools Offering Advertising Degree Programs
Choosing an Advertising School
Advertising programs are offered at reputable technical schools, career colleges, community colleges, 4-year colleges and universities. If you're interested in an area like copywriting or sales, make sure prospective programs include the appropriate courses. Check into the background of professors to see what industry experience they have. Ask about internships and other hands-on experience opportunities.
Find Advertising Schools
Advertising Degree Programs
Advertising certificate and associate career training programs offered at technical schools, colleges and universities provide an introduction into managing corporate communications and advertising clients, writing ads and understanding the media business. These degrees will qualify you for advertising sales, ad design and copywriting positions.
A college or university bachelors degree in Advertising will open more career doors. Most employers look for candidates with a 4-year degree and broad liberal arts education for account executive and media buying positions. Often these programs include classes in business, economics, English, marketing and behavioral sciences that can help you succeed.
Increasingly, Advertising masters degrees are required for account executive positions. Often, colleges and universities design these programs with an emphasis on a particular area such as management or advertising research.
Advertising Degree Programs:
Online Advertising Degree Programs at Online Schools
Several online school programs are available for Advertising majors. Earning an online degree may make college more accessible for some students. You can learn the principles of advertising, creative strategies and hone copywriting skills all from the comfort of your home. You can earn an online degree at the certificate, associate, bachelor's or master's level.
Online Advertising Degree Programs:
Online Advertising Schools:
High School Preparation
If you want to major in Advertising in college, get started on the right foot while you're still in high school. Strengthen communication skills in debate, speech and English classes. Spanish is also a good choice as many advertising campaigns will focus on the growing population of Latin Americans. Math skills will prove valuable especially if you plan to work on the sales or business side of the industry. Join afterschool activities like the newspaper staff, yearbook staff or business club Junior Achievement.
Find Schools Offering Advertising Degree Programs
Popular Careers in the Field of Advertising
Experts predict that the Advertising industry will grow at an average space. Most careers in the field are competitive because of the glamour factor and as the advertising industry recovers from the economic downturn.
Graduates can choose to pursue many different career opportunities such as advertising and promotions managers, art directors, account executives, copywriters, brand managers, market analysts, public relations specialists, media planners, advertising sales agents, ad designers and public relations specialists. Advertising sales agents earn around $23 an hour, with the highest wages going to those working for the motion picture and film industries and the lowest going to those in publishing. Public relations specialists see hourly wages around $27. Designers earn about $21 an hour. Managers earn about $65 an hour.
With experience, Advertising degree-holders can work their way up to higher-paying executive, manager and senior level positions. Some look into related careers like broadcast technician, commercial and industrial designers and desktop publishers.
Find Schools Offering Advertising Degree Programs
Top 10 Most Popular
Advertising Colleges
Advertisement