See All
Colleges >
Hospitality Management and Administration Colleges
Hospitality Management and Administration Colleges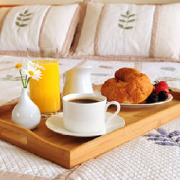 Hospitality Management majors will build the skills needed to mange a hotel, resort, inn, spa, cruise ship, casino or travel agency. Your education will include a mix of business, marketing, management and hospitality courses. Most students go after an associates degree, online degree or bachelors degree in Hospitality Management, but certificate programs and masters degree programs are available, too. You can attend a technical school, career college, community college, online school, 4-year college or university.
For Hospitality Management, you should be a great communicator and problem solver. A love for travel and an understanding of what makes a traveler feel comfortable and welcome helps too. With skills like these you may also want to consider Restaurant & Food Services, Hospitality and Recreation Marketing Operations, Hotel/Motel Administration/Management, Other Hospitality, Administration/Management, Resort Management and Tourism & Travel Management.
Find Schools Offering Hospitality Management Degree Programs
Choosing a Hospitality Management School
You can find reputable Hospitality Management degree programs across the country at technical schools, career colleges, community colleges, online schools, 4-year colleges and universities. To narrow down your choices, ask about study abroad programs in hospitality and hands-on learning opportunities such as student-run hotels or computer simulations. If professors are well-connected in the hospitality industry or if career placement services are available, you'll have a better chance of finding a job after graduation.
Find Hospitality Management Schools
Hospitality Management Degree Programs
Most Hospitality Management majors seek a bachelors degree from a college or university, which provides a strong background in business, marketing, finance and other skills needed for a successful career in hotel and travel management. You can expect courses in human resources management, revenue and cost control, hospitality facilities operations, hotel administration and economics.
While not necessary, a masters degree is even more favorable to employers looking for business-savvy candidates who are quick on their feet, so the extra scholing can lead to higher-paying positions.
Certificate programs and associates degree programs are widely available from technical schools, career colleges, community colleges, 4-year colleges and universities, too. These programs will give you a solid base to begin a career in Hospitably Management with courses in relevant computer programs, front office procedures, hotel maintenance, housekeeping, accounting, tourism sales and leadership.
Many degree programs from the certificate to masters degree level allow you to choose a special area or areas to focus on, which can help boost your earning potential later including casinos, resorts, spas or catering.
Hospitality Management Degree Programs:
Online Hospitality Management Degree Programs at Online Schools
Many technical schools, career colleges, community colleges, 4-year colleges and universities run online school programs in Hospitality Management. An online degree will offer the same types of courses in business, hospitality and marketing. Online school is a great option for students already working in entry-level hospitality positions because the program will help you advance your career and can be completed on your own schedule.
Online Hospitality Management Degree Programs:
Online Hospitality Management Schools:
High School Preparation
If you're interested in the Hospitality Management major, focus on business, computers, psychology and accounting during high school. To prove your leadership skills, join Junior Achievement, lead a club, go for captain positions on sports teams or run for student government. Look for part time work at local hotels, restaurants or country clubs.
Find Schools Offering Hospitality Management Degree Programs
Popular Careers in the Field of Hospitality Management
More and more hotels are expected to open, giving Hospitality Management majors excellent job prospects. Entry-level positions include assistant managers, hotel front desk receptionists, resort desk clerks, administrative support, travel agency assistants, hosts and hostesses and concierges. Salaries range from $353 to $533 per week.
With more experience and bachelor's and masters degrees, higher-paying and more prestigious careers can be found. With good customer services skills and a good education, you can find great jobs at upscale and luxury hotels. Careers include hotel managers, department managers, corporate executives, executive chefs, executive housekeepers, sales managers and food services managers. On average, annual salaries fall between $32,000 and $58,000.
In general, job opportunities are expected to grow in RV parks and recreation areas and casino hotels. Managerial and corporate administration positions are also expected to grow at chain-affiliated hotels. A career in Hospitality Management can often lead to a career in public relations, advertising or sales.
Find Schools Offering Hospitality Management Degree Programs
Read More About Hospitality Management and Administration Colleges
Most Popular
Hospitality Management and Administration Colleges
Advertisement