Finance Colleges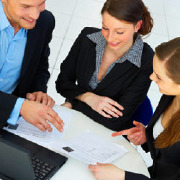 College and university Finance programs prepare students for careers as financial analysts, financial managers, investment bankers, financial clerks, securities and commodities sales agents, accountants and auditors. Typically, you can expect courses in statistics, investments, financial management and financial analysis.
Many students pursue bachelor's and masters degrees in Finance from colleges and universities to ensure the best financial careers. However, many certificate programs and associates degree programs are available to Finance majors at technical schools, colleges, online schools and universities, too.
To succeed in a Finance program you should be comfortable with numbers and computers. Many careers in Finance require clients to trust you with their money or investment portfolios, so it helps to be discreet and to have great communication, team work and problem-solving skills.
If you're also considering a more focused Finance major, explore Banking and Financial Support Services; Business and Personal/Financial Services Marketing Operations; Credit Management; Finance; Finance and Financial Management Services; Financial Planning and Services; International Finance; Investments and Securities and Public Finance.
Find Schools Offering Finance Degree Programs
Choosing a Finance School
You'll have no problem finding a reputable Finance program at a technical school, online school, college or university. Programs vary based on the skills you'll learn, so if you want to learn about insurance and securities for example, make sure prospective programs have the courses you want to take. Schools that have an internship coordinator and a career placement office will help you find work in the field.
Find Finance Schools
Finance Degree Programs
Students who major in Finance often pursue a bachelors degree at a college or university because most employers consider it the minimum. Over the four years you'll learn about investments, financial management, statistics, accounting and financial analysis. Some programs focus on different topics such as investments, insurance, corporate finance, capital markets or risk management.
To guarantee even greater earning potential, many Finance majors pursue a masters degree in finance. These programs will give you added expertise and often include advanced empirical and theoretical research techniques.
Certificate and associates degrees are available in Finance, too. These programs offered at technical schools, online schools, career colleges, community colleges, 4-year colleges and universities are often designed to prepare you for financial clerk positions, but can also qualify you or securities, commodities and financial services sales agent careers. You'll learn industry terminology, how to read financial statements, financial computer software, and more. That said, some certificate programs are geared toward working professionals already holding a bachelors degree in another subject.
Finance Degree Programs:
Online Finance Degree Programs at Online Schools
Whether you're already working in business or looking to start a new career, you can get an online degree in Finance from an online school. Technical schools, colleges and universities all offer online school programs that can prepare you for positions as financial clerks, analysts, managers and more with an online degree in Finance.
Online Finance Degree Programs:
Online Finance Schools:
High School Preparation
During high school, prospective Finance majors should be sure to take courses in accounting, calculus, statistics and economics. To try your hand at finance act as your own financial advisor, keeping track of expenses and spending. To stand out on your college application run for school treasurer, join business-oriented clubs such as Junior Achievement and look for part time work in an office or financial business.
Find Schools Offering Finance Degree Programs
Popular Careers in the Field of Finance
While many Finance bachelors degree holders seek careers as financial analysts and financial managers others enjoy careers as budget analysts, financial planners, personal financial advisor, securities and commodities sales agents, accountants and auditors.
For financial managers and financial analysts, the best jobs go to masters degree holders, but a bachelors degree will get your foot in the door, too. Average annual salaries range from $51,000 to $125,000. Knowledge of securities and commodities, risk management, raising capital and mergers and acquisition, are all in demand. Expertise in financial computer software, insurance, securities and international finance can lead to better opportunities. Continuing education is a must for ongoing success in Finance as regulations, laws and trade specifications are constantly changing.
Individuals with certificates and associates degrees in finance often find work as financial clerks. This career path includes bookkeepers, auditing clerks, bank tellers, branch managers and casino financial clerks. Average annual salaries for these Finance careers range from $24,000 to $38,000. Some Finance majors without a bachelors degree also go on to positions as securities, commodities and financial services sales agents earning an average annual salary around
Find Schools Offering Finance Degree Programs
Most Popular
Finance Colleges
Advertisement