See All
Colleges >
Museology/Museum Studies Colleges
Museology/Museum Studies Colleges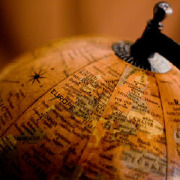 A program that focuses on the attitudes, knowledge, and skills required to develop, prepare, organize, administer, conserve, store and retrieve artifacts, exhibits and entire collections in museums and galleries, and that prepares individuals to assume curatorial, technical and managerial positions in museums. Includes instruction in institutional management, acquisition, exhibit design, conservation, packing techniques, and public relations.
Top 10 Most Popular
Museology/Museum Studies Colleges
Quick Search: Find the College that's Right for You!
Advertisement