Reflexology Colleges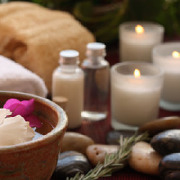 Reflexology is a type of massage that focuses on the feet, and sometimes hands and ears, to relieve pain and problems in other parts of the body. In this major, students will learn how to manipulate the 7,000 plus nerve endings in the feet by applying pressure to particular points to promote healing and balance. You'll study and follow maps of the feet, hands and ears, which correspond to other internal and external body parts. Many programs also include classes in the history of reflexology, anatomy and physiology.
Reflexology students can earn a certificate or an associates degree in two years or less from a technical school, career college, community college, 4-year college or university. Most Reflexology majors have a desire to promote health and wellness and help others feel comfortable. You'll need to ease clients into states of relaxation and help relieve stress so good interpersonal skills are important.
With an interest in Reflexology, you should explore other Healing Arts college majors including Acupuncture; Alternative and Complementary Medical Support Services; Alternative Medicine; Aromatherapy; Asian Bodywork Therapy; Ayurvedic Medicine/Ayurveda; Colonic Hydrotherapy; Direct Entry Midwifery (LM; CPM); Energy and Biologically Based Therapies; Feng Shui; Heatheology; Herbalism/Herbalist; Homeopathic Medicine; Hypnotherpay/Hypnotherapist; Homeopathic Medicine; Hypnotherapy/Hypnotherapist; Iridology; Massage Therapy; Movement and Mind-Body Therapies and Education; Movement Therapy and Movement Education; Naturopathic Medicine (ND); Polarity Therapy; Reiki; Somatic Bodywork; Somatic Bodywork and Related Therapeutic Services; Spa Therapy; Traditional Chinese/Asian Medicine and Chinese Herbology and Yoga Teacher Training/Yoga Therapy.
Find Schools Offering Reflexology Degree Programs
Choosing a Reflexology School
You can find a wide variety of technical schools, career colleges, community colleges, 4-year colleges and universities offering the Reflexology major. If you're new to massage and spa therapies, you should enroll in a longer program, which incorporates hands-on training. If you're already certified in at least one area of massage, a short program may give you all the skills you need to practice Reflexology. Depending on your skill level and desired career path you may want to select a technical school or career colleges that focuses on massage therapy or healing arts rather than a general college or university.
Find Reflexology Schools
Reflexology Degree Programs
Technical schools, career colleges, community colleges, 4-year colleges and universities all offer Reflexology degree programs at the certificate and associate career training degree levels. These programs take from a few months to two years to complete. You'll study the history and theories behind reflexology and learn the maps of the feet, hands and ears. Students receive hands-on training in reflexology routines including ways to modify sessions to accommodate specific client needs. More advanced programs provide a background in anatomy and physiology. Some include business ethics, spa safety and management procedures.
Reflexology Degree Programs:
Online Reflexology Degree Programs at Online Schools
Online Reflexology Schools:
High School Preparation
During high school, future Reflexology majors can learn a lot in science courses. If you understand human anatomy and biology now it will prove useful later. Communication skills are also important for working with clients so take speech, drama and English classes. If you expect to work in a market with Spanish or French speakers, take as many foreign language classes as you can.
Find Schools Offering Reflexology Degree Programs
Popular Careers in the Field of Reflexology
Reflexology majors work as reflexologists in spas, salons, fitness centers, chiropractic offices or on a freelance basis visiting individual homes. To make a full time career and salary many work in a variety of locations or perform other types of massage therapy or spa therapies in addition to reflexology.
Like all massage therapy careers, job opportunities are expected to grow as individuals become more interested in alternative and holistic health methods. In general, a reflexology career is associated with wages between $11 and $24 an hour. For higher-paying positions look to luxury spas, vacation areas and large metropolitan areas.
Find Schools Offering Reflexology Degree Programs
Most Popular
Reflexology Colleges
Quick Search: Find the College that's Right for You!
Advertisement