See All
Colleges >
Intermedia/Multimedia Colleges
Intermedia/Multimedia Colleges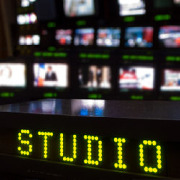 The Intermedia/Multimedia major focuses on using different mediums to create two- and three-dimensional images and animation. For this major, you should be highly creative and artistic as well as tech savvy since most of your work will be created on the computer. Most programs are entirely computer-based though some include traditional art forms such as sculpture and cinematography. In this major, students will learn how to use multimedia art forms to create advertisements, mobile applications, video games, presentations and more.
Technical schools, career colleges, community colleges, online schools, 4-year colleges and universities all offer the Intermedia/Multimedia major. Most students choose bachelors degree programs, but certificates, associates degrees and masters degrees are also available.
Many Intermedia/Multimedia majors consider related programs such as Animation & Video Graphics; Audiovisual Technician; Commercial & Advertising Art; Communications Technologies/Technicians and Support Services; Communications Technology/Technician; Computer Graphics; Computer Media Applications; Computer Typography and Composition Equipment Operator; Design & Visual Communications; Design and Applied Arts; Film/Video & Cinematography; General Graphic Communications; Graphic and Printing Equipment Operator, General Production; Graphic Design; Illustration; Other Graphic Communications; Photographic and Film/ Video Technology/Technician and Assistant; Photography; Platemaker/Imager; Printing Management; Printing Press Operator; Publishing & Digital Imaging; Radio & Television Technician; Recording Arts Technology; and Web Design.
Find Schools Offering Intermedia/Multimedia Degree Programs
Choosing an Intermedia/Multimedia School
You can study Intermedia/Multimedia at a technical school, career college, community college, online school, 4-year college or university. Because only about 100 schools offer the major, location may be a big factor when you choose a school. You should also look at the course requirements because Intermedia/Multimedia programs can vary greatly. The condition of computer labs and art studios where you'll complete much of your coursework is also important.
Find Intermedia/Multimedia Schools
Intermedia/Multimedia Degree Programs
Certificate and associates degree programs in Intermedia/Multimedia take a few months to two years to complete. Offered at technical schools, career colleges, community colleges, online schools, 4-year colleges and universities, these programs provide a basic introduction to many different 2D and 3D digital art forms. Count on courses in animation, digital design and 3D design.
Most Intermedia/Multimedia majors choose to attain a bachelors degree from a technical school, college or university program. A 4-year degree allows time for more advanced courses in digital art and can give you an opportunity to create impressive projects and internships to strengthen your portfolio.
Masters degrees are popular for Intermedia/Multimedia majors with a bachelors degree in a related field who are seeking up-to-date technical skills.
Intermedia/Multimedia Degree Programs:
Online Intermedia/Multimedia Degree Programs at Online Schools
If you're interested in online school, you'll find a few Intermedia/Multimedia online degree programs to choose from. Expect a long list of software requirements and the possibility of a computer upgrade because for online school you'll need to complete digital art assignments at home. You can earn an online degree at the certificate, associate, bachelor's or masters degree level.
Online Intermedia/Multimedia Degree Programs:
Online Intermedia/Multimedia Schools:
ITT Technical Institute Online
High School Preparation
Future Intermedia/Multimedia majors should focus on computer and art classes during high school. Everything from drawing to art history can help you learn the fundamentals of digital art and design. Beyond classroom instruction, you should work on art on your own time using computer software if available to you. Designing sets for the drama club or working on school Web sites make for good after school activities.
Find Schools Offering Intermedia/Multimedia Degree Programs
Popular Careers in the Field of Intermedia/Multimedia
Job opportunities for Intermedia/Multimedia majors are often very competitive. For a successful career, you'll need a strong portfolio, impressive creativity and a confident attitude to score jobs. Many in the field are self-employed and work with a variety of clients on a freelance basis. Others work for interactive agencies, Web design firms, advertising agencies, entertainment companies, video game producers or movie studios.
The best career opportunities will go to Intermedia/Multimedia majors with expertise in animation and computer graphics. The growing demand for mobile technologies, video games, Web sites and 3D animated movies will create a growing need for artists with expertise in those areas.
Salaries for Intermedia/Multimedia careers range from $42,000 to $70,000. Experience and talent can lead to art director or lead designer positions. Some Intermedia/Multimedia degree-holders may transition to careers as Graphic Designers, Film and Video Editors, Computer Programmers and Broadcast Technicians.
Find Schools Offering Intermedia/Multimedia Degree Programs
Top 10 Most Popular
Intermedia/Multimedia Colleges
Advertisement