See All
Colleges >
Biotechnology Colleges
Biotechnology Colleges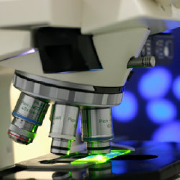 Learn to develop new products through the commercial exploitation of microbes, plants, and animals. This program applies the principles of the biological sciences to produce marketable products. Biotechnology students take classes in bioinformatics, gene identification, phylogenetics and comparative genomics, bioinorganic chemistry, immunoassaying, DNA sequencing, xenotransplantation, genetic engineering, industrial microbiology, drug and biologic development, enzyme-based production processes, patent law, biotechnology management and marketing, applicable regulations, and biotechnology ethics.
Top 10 Most Popular
Biotechnology Colleges
Quick Search: Find the College that's Right for You!
Advertisement