DeVry University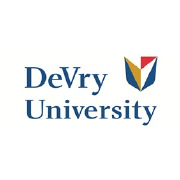 DeVry University School Description
DeVry University is one of North America's largest post-secondary educational systems, maintaining over 95 campus locations throughout the United States. With an emphasis on professional specialization and career-readiness, degree programs within five colleges are offered in fields like business, media, health and technology at the associate, bachelor's and master's levels and can be completed online, on campus or in a combined learning format.
The system's particular focus on career training and advancement underscores DeVry University's mission to provide students with access to higher education while helping them to develop cutting-edge skills as practitioners in their respective fields.
Geared toward working students with outside time commitments, the DeVry University system offers online classes, flexible course scheduling, evening classes and a year-round academic calendar.
Accreditation:
DeVry University is accredited by The Higher Learning Commission of the North Central Association of Colleges and Schools, www.ncahlc.org. Keller Graduate School of Management is included in this accreditation. In New York, DeVry University operates as DeVry College of New York. DeVry University operates as DeVry Institute of Technology in Calgary, Alberta. DeVry is certified to operate by the State Council of Higher Education for Virginia. AC0060. DeVry University is authorized for operation by the THEC. www.state.tn.us/thec. Nashville Campus - 3343 Perimeter Hill Dr., Nashville, TN 37211 Licensed by the Mississippi Commission on Proprietary School and College Registration, Certification No. C-498.
Program availability varies by location.
©2013 DeVry Educational Development Corp. All rights reserved. Privacy Policy
See All DeVry University Campuses
Find a DeVry University Campus by Zip Code
Or Use the Map to Find a DeVry University Campus
DeVry University Campuses and Online School