See All
Colleges >
Learn About Careers: Job Shadow Programs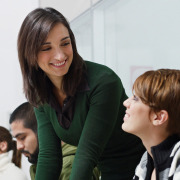 Learn About Careers: Job Shadow Programs
Job shadows, internships and other programs can help you learn more about a career and focus your education.
Job shadow programs allow students to see how the knowledge gained in an academic setting is applied to an actual business environment while laying the foundation for future networking and employment opportunities.
Before committing your time to education, training and job preparation, you can make sure you are genuinely interested in a career by enrolling in one of these programs.
Job Shadow Programs vs. Internships
Although these two vocational programs share many similarities, there are multiple points of distinction you should understand before deciding which (or both, in some cases) you plan to pursue.
Job shadow programs typically last several days. You follow (or "shadow") an industry professional in order to get an in-depth look at the day-to-day responsibilities that job entails. Your role is strictly observational – you will not be asked to assist in any way.
Internships take a much more hands-on role, as you are actually an employee of the company. Pay is dependent on where you work – some internships offer financial compensation; others do not. However, an internship can provide invaluable work experience that will put you ahead of your peers.
The best way to approach these programs is to start off with a job shadow program. If you decide that you would like to learn more, start to look for an internship. A shadow program can turn into an internship if you network well.
Example Job Shadow Programs
Most corporations and government agencies offer some sort of program for high school students who are interested in learning more about a specific career field. Some examples include:
AT&T: One of the largest programs of its kind, AT&T Aspire teams employees up with students in 211 cities across the United States.
Walgreens: High school students can monitor a pharmacy technician while learning more about their nationally accredited training program.
United States Navy: Joining any of the armed services is a huge commitment. To ensure that candidates understand the rigors of this process, the United States Navy runs a shadow program for all prospective applicants.
Connecticut State Judicial Branch: Choose from one of 14 positions to follow, including an Attorney, Chief Judicial Marshal, and Law Librarian. Most states have comparable programs within all branches of the Government.
Tips and Tactics: Get the Most out of Your Job Shadow Program
Find a program that lasts several days, and not several hours. Give yourself enough time to truly get a feel for the job you are following.
Even though you are not working, dress professionally. You want to be respectful of the workplace and make a strong first impression on the employees.
The relationships you form during your program could lead to future opportunities, such as an internship or a full-time job. Make sure you maintain correspondence: send a letter to all employees you shadowed thanking them for taking the time to meet with you.
If you are having difficulty locating a program that appeals you, talk to your guidance counselor. She will be more than happy to lend her services based on your needs and interests.
People Who Read This Article Also Read:
Jobs and Internships: What's On Your Resume?
Volunteering, Community Service and College Admissions
Summer Vacations and College Admissions

Related Timeline Articles
Quick Search: Find the College that's Right for You!
Advertisement
Visit Our Student Center

Get on track!
And find out everything you need to know about planning for college.
Advertisement