See All
Colleges >
What is a Massive Open Online Course (MOOC)?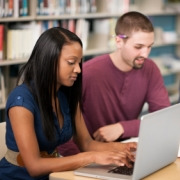 What is a Massive Open Online Course (MOOC)?
Learn about the new higher education craze and how you can take classes.
A Massive Open Online Course (MOOC) is a type of online education program in which a large group of students all learn the same thing at the same time. MOOCs are revolutionary because they are often taught by renowned professors from famous colleges like Yale and the Massachusetts Institute of Technology, and they're usually free. Students pay no tuition to take classes that would normally be worth thousands of dollars.
The name pretty much tells you everything you need to know:
A MOOC is:
Massive: Large amounts of information are being shared with a large number of people.
Open: The information is available to anyone.
Online: The course is accessed via the Internet.
Course: It is a class on a specific topic taught by a professor, complete with a syllabus and lesson plans.
All of these factors make MOOCs different from other forms of learning. When a student wants to learn something, he typically has two choices.
1. He can try to learn a topic by himself. 2. He can go to a school where someone has created a class to teach students.
A MOOC is the same class a student at a prestigious university would take, with lectures, a syllabus, assignments, tests and a start and an end date. The difference is that you can learn from your own home and pay no tuition.
The History of Massive Open Online Courses
Dave Cormier first coined the term MOOC in 2008 to name an online course that had been created for both students at the University of Manitoba and the public.
Online courses had existed for many years as part of college and university curriculum, but the growth of the MOOC remained slow until 2011. At that point, Internet entrepreneurs and professors from many colleges began to work together to develop these large online courses.
In the autumn of 2011, 160,000 people signed up for a free artificial intelligence class at Stanford University. From there, other teachers and entrepreneurs quickly joined in and more MOOCs were developed.
What are some notable Massive Open Online Courses?
Some of the popular MOOC programs include:
Colleges like Princeton, Stanford, and the California Institute of Technology currently offer some MOOC course offerings, which has given MOOCs a spike in attention and credibility.
Why are MOOCs so popular?
As David Cormier, a strong proponent and coiner of the name MOOC says, a MOOC "is a way to connect and collaborate while developing digital skills." A MOOC allows students to learn at their own pace, connect and collaborate with other learners who have similar interests with them, and also promote computer literacy. This last point is very important, as the MOOC is taught exclusively online.
In addition, Massive Open Online Courses are almost always free. There are only fees if a student wishes to earn credits or a certificate from a college or university for the course. Certain websites like Udemy.com try to make money off of MOOCs by allowing anyone to create their own online course and charge students whatever they like, but MOOCs are ultimately popular because they are free and promote free access to information.
Quick Search: Find the College that's Right for You!
Advertisement
Visit Our Student Center

Get on track!
And find out everything you need to know about planning for college.
Advertisement