See All
Colleges >
How to Handle the Rising Costs of a College Education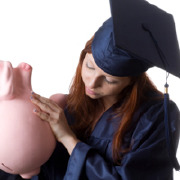 How to Handle the Rising Costs of a College Education
Tips on how to save money for college.
Tuition and other costs at colleges and universities have been rising steadily in recent years. So much so that some reports suggest the cost of a college education could be as high as $250,000 in the next 20 years.
Considering this staggering potential increase and our current recession, how are families handling these rising costs? According to a recent study cited by CBS Interactive's Smart Planet, 47% are saving the same amount as they did last year, while 37% are saving less and 15% are saving nothing toward a college education. In other words, families are not able to save their money at the same rates as college costs increase.
If you, or a family member, are planning to attend college in coming years, you may be concerned about how to pay for college. Fortunately, there are a number of ways you and your family can save money for college to meet the rising costs of a college degree. And many families are making use of them: 43% of parents with young children are using 529 savings plans.
These savings plans are offered by every state to encourage families to save long-term for education costs at colleges and universities. These qualified tuition plans come in two forms: pre-paid tuition plans and college savings plans.
Under a pre-paid tuition plan, you can purchase credits now toward future tuition, allowing you to pay for college now at current costs, rather than waiting to pay for college as tuition rises. With a savings account, you invest your money, and the total can go up or down, just as it does with other types of investments.
Money in a 529 plan grows tax-free, and when you take out the money for qualified education expenses, the money is also fax-free. Many parents prefer these plans because there are no limits to how much or little you can contribute, and parents maintain control over the accounts; in other words, accounts aren't transferred over to a child's control when they reach a certain age, as is the case with other types of savings accounts.
If the money in a 529 account isn't used for a student's college education, it can be transferred to another family member, including the person who created the account. This allows the fund to help all family members pursue college degrees, extending the usefulness of these plans.


People Who Read This Article Also Read:
You're In! How Are You Going to Pay for College?
Top 10 Things You Need to Know About Paying for College
Top 5 Mistakes Students Make with Financial Aid
Paying for College: The Basics
What's Included in the Cost of Attendance (COA)?
How Parents Can Help with Financial Aid

Quick Search: Find the College that's Right for You!
Advertisement
Visit Our Student Center

Get on track!
And find out everything you need to know about planning for college.

Visit our FREE
scholarship directory
Seach 1.9 million scholarships worth over $7.75 billion
Enter for a chance to win our monthly $1000
Scholarship!
Advertisement