Mid Plains Community College (MPCC)
1101 Halligan Drive, North Platte, NE 69101
MPCC Description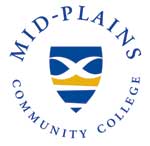 Mid-Plains Community College in Platteville, Nebraska provides a supportive and structured environment to help students become focused on their career and educational goals.
Career testing is one way in which Mid-Plains helps students to get clarity about which career or academic path they wish to take. Once students do discover what types of subjects they excel at and are interested in there are a number of degree paths to choose from.
Associate of Applied Science degrees, diplomas and certificates prepare students to enter professions in such fields as Automotive Technology, Business, Dental Assisting, Electrical Technology, Emergency Medical Services, Graphic Design, Practical Nursing and Paramedic Technology.
Those who have decided that a four-year university is the best route for them will get an Associate of Arts or Associate of Science degree with a specified major such as English, Biology, Business, Communications, Education, History, Theatre Arts or General Studies. Advisors will then work with students to make sure that they take the courses, which will transfer to a university or four year college.
Since students need only have a high school diploma or GED, anyone may get their career training or begin their undergraduate education at Mid-Plains.
Student life at Mid-Plains provides an assortment of activities outside of class. From professional student organizations to recreational clubs to on-campus entertainment and lectures, there is plenty for students to do to enrich themselves and their interests.
In addition to financial aid offerings for qualifying students, tuition payment plans and reduced tuition for senior citizens and in-state residents are available.
Quick Facts about Mid Plains Community College
Setting
Small Town Setting
Affiliation
Not applicable
Size
Medium (2,000 to 5,000 Undergrad)
On-Campus Housing Available
Yes
Parking Permit Required
Yes
Selectivity
Open Admissions
Out-of-State Tuition
$3,450
MPCC Students
Total Students

2,708
Undergraduate vs. Graduate
Undergraduate

100%

Graduate

0%
Full-Time vs. Part-Time Students
Full-Time

36%

Part-Time

64%
Ethnic Diversity
Latino

4%

African American

1%

Caucasian

66%

Unknown and Other

28%
International Students
International

0%

Domestic

100%
Learn more about Mid Plains Community College (MPCC):
Compare to Similar Colleges