Ohio College of Massotherapy Inc
225 Heritage Woods Drive, Akron, OH 44321
Description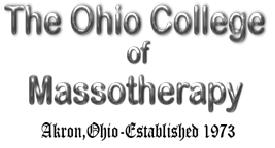 Ohio College of Massotherapy in Akron, Ohio, has been training adult learners for the massage therapy profession for more than 30 years. In recent years, Ohio College of Massotherapy has made its programs accessible to adults by delivering them primarily through online classes.
Full-time working adults may therefore attend class anytime and anywhere.
Academics consist of three different massage therapy programs. All three of these programs lead to an associate's degree in massage therapy. Regardless of which specialization they choose, students go to the campus for a certain number of hours. There, they complete clinical part of their program, performing massages at the school's massage therapy clinic.
Ohio College of Massotherapy is accredited and graduates are therefore eligible to become full-fledged, licensed massage therapists.
For information about admissions, tuition and financial aid, contact the Ohio College of Massotherapy.
Quick Facts about Ohio College of Massotherapy Inc
Setting
Mid-size City Setting
Affiliation
Not applicable
Size
Small (Under 2,000 Undergrad)
On-Campus Housing Available
No
Selectivity
Open Admissions
Out-of-State Tuition
$10,778
Students
Total Students

190
Undergraduate vs. Graduate
Undergraduate

100%

Graduate

%
Full-Time vs. Part-Time Students
Full-Time

0%

Part-Time

100%
Ethnic Diversity
Latino

1%

African American

14%

Caucasian

84%

Asian

1%
International Students
International

0%

Domestic

100%
Learn more about Ohio College of Massotherapy Inc:
Compare to Similar Colleges