Dabney S Lancaster Community College (DSLCC)
1000 Dabney Dr, Clifton Forge, VA 24422
DSLCC Description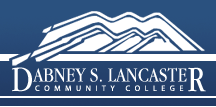 Dabney S Lancaster Community College (DSLCC) is exceptional among two-year schools in its emphasis on personal growth. The college recognizes the value of co-curricular learning, and student life at DSLCC provides plenty of opportunities to get involved, from athletics to student organizations.
Of course, DSLCC also places a high level of importance on academics, offering about 40 programs of study. Some of these programs are designed for students who plan to transfer to a four-year college, while others are designed for vocational training. Programs like Urban Forestry, Web Page Design and Wind Turbine Service Technology are ideal for those seeking a unique profession.
Financial aid is available for most of these programs, primarily through state and federal sources. DSLCC also funds several scholarships, ranging in amount from $100 to $5,000. Some of these scholarships are restricted for graduating high school students, nontraditional students or those in the Nursing program.
DSLCC has an open admissions policy, and welcomes anyone in the community to enroll. The free admissions application is online, and degree-seeking students should include their official high school transcripts and SAT/ACT scores. A placement test is available if you haven't taken the ACT or SAT.
Quick Facts about Dabney S Lancaster Community College
Setting
Small Town Setting
Size
Small (Under 2,000 Undergrad)
Website
On-Campus Housing Available
No
Parking Permit Required
No
Selectivity
Open Admissions
Out-of-State Tuition
$6,986
DSLCC Students
Total Students

1,272
Undergraduate vs. Graduate
Undergraduate

100%

Graduate

0%
Full-Time vs. Part-Time Students
Full-Time

50%

Part-Time

50%
Students Coming From In-State vs. Out-of-State
In-State

98%

Out-of-State

2%
Ethnic Diversity
African-American

5%

Caucasian

89%

Other

6%
Students State Origin
Virginia

98%

West Virginia

1%

Other

1%
International Students
International

0%

Domestic

100%
Learn more about Dabney S Lancaster Community College (DSLCC):
This web site and associated pages are not associated with, endorsed by, or sponsored by Dabney S Lancaster Community College (DSLCC). CampusExplorer.com has no official or unofficial affiliation with Dabney S Lancaster Community College (DSLCC).