All
Colleges >
National American University
National American University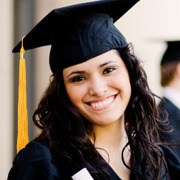 National American University School Description
National American University, a system of schools geared toward providing working adults with a real-world perspective on higher education and professional training, was originally founded as a secretarial and accounting school in 1941 in Rapid City, South Dakota.
Since receiving accreditation by the North Central Association of Colleges and Schools in 1985, National American University has expanded its presence with campuses in seven states across the country. And with the advent of its online curriculum as early as 1996, National American University has continued to increase its scope in all realms of higher education.
The curriculum and professional training programs at National American University are geared toward working adults, most of whom maintain full-time employment status while in school, seeking career advancement and opportunities by enhancing their education via diplomas, bachelor's degrees, associate degrees and master's degrees.
NAU Distance Learning, the school's popular online learning outlet, also provides many of the same academic programs so that students are able to work toward their degrees at their convenience.
The National American University family of schools is known for emphasizing communications, the humanities, science, mathematics, social and behavioral sciences and information technology literacy.
Find a National American University Campus by Zip Code
Or Use the Map to Find a National American University Campus
National American University Campuses and Online School