See All
Colleges >
Should You Attend a Historically Black College?
Should You Attend a Historically Black College?
Explore the benefits of attending a college that fosters community and academic excellence for African-American students.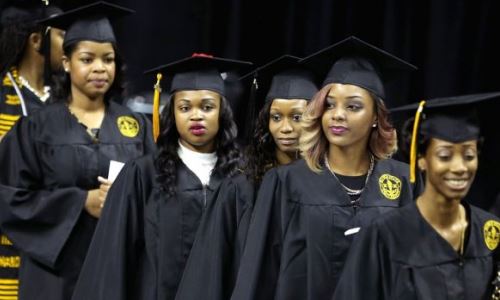 There are over 100 colleges and universities across the U.S. with an emphasis on the cultural growth and educational achievements of African-American students. These colleges are known as historically black colleges and universities, or simply HBCUs. While only 15-17% of black students are enrolled in colleges, 14% African-Americans attend historically black colleges and universities, according to data by the NCES.
More than 70% of African-American dentists and physicians got their degrees at a HBCU.
Why do so many African-American students attend HBCUs?
There are many reasons. Most importantly, the supportive atmosphere of these colleges improve a student's ability to reach higher levels of academic achievement. In fact, studies show that 9 out of 10 colleges with African-American graduates who pursue a PhD are attending HBCUs.
"What I liked most was meeting other black women with the same interests and qualifications as I," said Crystal Smith, who attended Spelman College, a college for black women. "I made lifelong friends that I enjoy still today. Overall it was a grounding experience and gives you inclusion into a very close-knit community."
A historically black college or university, according to the Higher Education Act of 1965, as amended, defines a HBCU as, "any historically black college or university that was established prior to 1964, whose principal mission was, and is, the education of black Americans, and that is accredited by a nationally recognized accrediting agency or association determined by the Secretary of Education."
Prior to the Civil War, many African-Americans were enslaved and did not have the same rights as white citizens, like going to school. After the Civil War, many African-Americans moved to the North to pursue their education. However, in the South, due to continued racism, black and white students were segregated in schools. HBCUs were created to provide a place for African-American students to get an education when they were not allowed to attend other public or private higher education institutions due to segregation laws.
The first HBCU was established in 1837 in Pennsylvania. Cheyney University, which was also called the Institute for Colored Youth opened its doors with elementary and secondary classes that later became college courses.
Benefits of Historically Black Colleges and Universities
As mentioned above, due to their history, HBCUs provide a strong sense of community. You may opt to join an HBCU in order to be closer to other African-American students and get more involved in African-American culture.
Going to an HBCU makes a statement. Some students feel empowered by attending a university that has a history of fighting for African-American students' rights to higher education.
Because the majority of colleges and universities in the United States are predominantly white, African-American students may experience a sense of social isolation at those schools, which can distract them from their studies and dampen their desire to pursue extracurricular and social activities. When you attend an HBCU, you do not have to worry about the potential distraction of being a minority student.
Some students feel they will benefit from being around fellow students and professors who share their cultural experience to varying extents. Many find that they can only find a good distribution of such individuals at a historically black college or university.
Some classes or extracurricular activities that speak directly to the African-American experience may only be available at HBCUs or may provide the most benefits at a historically black college or university.
Quick Tips
Visit HBCUs as well as other diverse schools to see which environment you prefer. Arrange for an overnight visit at each type of school and talk to students of various races to get a better sense of how race might impact student life. At racially mixed schools, be sure to visit black fraternities or sororities and go to black student organizations and dorms.
Interested in an HBCU but not looking for a four-year college? You can find community colleges and other two-year schools that are historically black, as well as well as doctorate programs and graduate programs at the master's degree level.
People Who Read This Article Also Read:
Black Fraternities and Sororities: The Divine Nine
Is An Urban Campus Right For You?
Should You Attend a Single-Sex College?
Private vs. Public College: Which is Best For Me?

Advertisement
Visit Our Student Center

Get on track!
And find out everything you need to know about planning for college.
Advertisement