See All
Colleges >
How To Improve Your Teen's Study Habits
How To Improve Your Teen's Study Habits
What do you need to do to encourage good study habits in your high school student?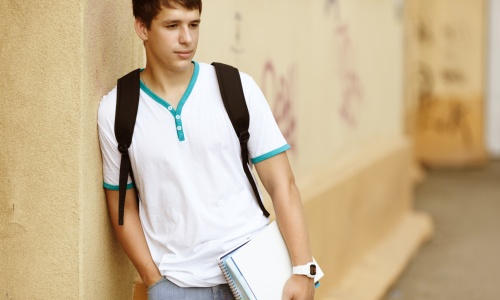 Photo: Thinkstock
Are you worried that your child does not have the best study habits for high school?
If she is scoring poorly on tests or getting bad grades on her report card now, imagine the trouble she will have in college.
Even if your student doesn't have homework, taking 30 to 60 minutes of time to study each day will help enforce key concepts.
The transition from middle school to high school proves to be an important time for developing study skills. The student who could skate by in middle school barely opening a book to study usually finds that higher-level high school courses require much more time and preparation to study.
It's usually not lack of motivation that is keeping your high school student from studying. Beyond scanning a textbook for a few minutes, he might not know what else to do.
At some point in your child's life, he was probably taught basic study skills. But most of the time, a student needs to go beyond the basics to figure out what works best for them. There is no single prescription for learning good study skills. Each person benefits from a different study routine.
What Are Good Study Habits?
You probably haven't had to worry about study skills in a while, so it's important that you brush up on your knowledge before trying to teach your child. Here are some helpful habits for high school students:
Location
Your teen is sitting on his bed, books and notepads spread willy-nilly around him, music is blasting and his computer is on. Does this sound familiar?
If possible, devote an area of the house for studying. This area should be organized, quiet and free from other distractions. Other great places to study include a library, study hall, bookstore or coffee shop.
One recent study reported by The New York Times suggests that studying in multiple places can actually improve retention. You'll need to find what works best for your child.
The Omnipresent Computer
Computers are a great research resource, but when it comes to studying they turn into a distraction. Your student should not be surfing the web when she is supposed to be hitting the books.
According to a study by Cornell University, students who used computers to take notes during a lecture had less memory retention than students who left their laptops closed. Ideally, your student should use a computer when necessary, and then set it aside.
Outlines and Flashcards
Organizing several chapters' worth of information into chunks allows a student to independently connect ideas. Just the simple act of re-writing notes may help with retaining information.
Study Groups
Some people study best when they are alone. But other people thrive in social atmospheres. Encourage your child to meet with a group of four or five people to compare notes, review course materials and quiz each other.
Planning and Scheduling
Studying is often viewed as a task or an obligation and many people put it off until the last minute. To avoid this nerve-wracking mistake, your child should follow a daily studying schedule. Even if she doesn't have homework that day, taking 30 to 60 minutes of time to study each day will help enforce key concepts over a longer period of time, rather than cramming it in last minute.
Using a planner (whether on paper or digital) can really help. Create a daily or weekly list of "things to do" is one of the most effective tools for staying organized.
Breaks
Encourage your child to study for about 30 to 45 minutes at a time, and then leave room for a five- to 10-minute break to exercise or rest.
Instilling these study tips into your child now will help prepare him or her for college later.


People Who Read This Article Also Read:
How to Help My Child Prepare For College
Is My Child Ready For College?
High School Academics: Planning Class Schedules
Working With Your Child's College Counselor
Standardized Tests: A Parent's Guide
College Admissions Calendar For Parents
My Child's High School Isn't Doing Any College Planning
Help! My Child Has No Plan For College

Advertisement
Visit Our Student Center

Get on track!
And find out everything you need to know about planning for college.
Advertisement