See All
Colleges >
5 Colleges With Sweet Valentine's Day Traditions
5 Colleges With Sweet Valentine's Day Traditions
Students will be feeling the love on February 14th on these lovey-dovey campuses.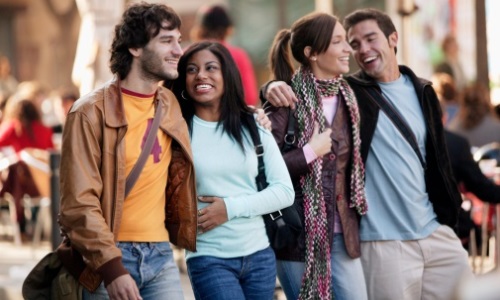 Photo: Thinkstock
Valentine's Day is all about love, which is why we think it deserves as much attention as Christmas, Hanukkah and other widely celebrated holidays. We give these five colleges major props for creating fun traditions surrounding February the 14th.
Flagler College
Every year on Valentine's Day, Flagler College's Phi Alpha Omega chapter hosts a Bachelor Bid. Single female students get to bid on their male classmates, all of who dance, strut and striptease in order to grab the ladies' attention. The sweetest part? Proceeds from the two-dollar entry fee go straight to charity.
These colleges are guarenteed to make you go "awwwww"
Washington University in St. Louis
Washington University in St. Louis students who live in the school's Ruby or Umrath residences have the privilege of enjoying the annual Screw Ur Roommate Dance, which requires students to set their roommates up with dates for the event. For their sakes, we hope these students are kind at heart…
Simmons College
The all-girls Simmons College holds an annual soiree around Valentine's Day that gives the ladies an opportunity to grab dates for the night. As exciting as that is, the best part about the event is usually the venue -- past parties have taken place at iconic locations in the Boston area, like Fenway Park, Top of the Hub and the House of Blues.
Alverno College
At Alverno College, Valentine's Day isn't just about significant others; it's about family and friends, too. The school hosts an annual Little Sweetheart's Party, which includes all-ages fun like crafts and cookie-making. Sounds like a saving grace for those who are single!
Swarthmore College
Swarthmore College takes Valentine's Day seriously -- they don't have just one tradition; they have several. For starters, they've taken Washington University in St. Louis' Screw Ur Roommate theme and turned it up a notch. In this version, students dress their roommates up in crazy costumes and send them to the dining hall, where they're meant to search for the guys and girls wearing the other halves of their costumes (think Romeo finding Juliet or a dog finding a fire hydrant). Swarthmore doesn't stop at that, though -- the school's all-male a cappella group serenades the campus with romantic tunes, and students even host a Valentine's Day-themed comedy show.
Say "aww" if these schools have totally won you over (like they have us)!
People Who Read This Article Also Read:
College Towns With Anti-Valentine's Day Events
10 Valentine's Day Ideas on a Budget
How to Ask Your Dorm Neighbor on a Date
7 First Date Ideas for College Students
Advertisement
Visit Our Student Center

Get on track!
And find out everything you need to know about planning for college.
Advertisement