See All
Colleges >
College Application Strategies: Big Schools vs. Small Schools
College Application Strategies: Big Schools vs. Small Schools
Use different types of college applications to your advantage whether you apply to big or small schools.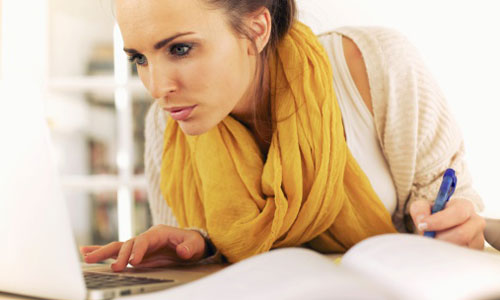 Photo: ThinkStock
Just like Goldilocks and her three bowls of porridge, finding the right college is all about figuring out what works for you. Colleges and universities come in all different shapes, sizes and admissions requirements. OK, so maybe Goldi didn't have to deal with that last one, but the truth is a school's application requirements are varied across the board and finding the one that is "just right," can be a tedious process for students.
Often larger, public schools have less essay questions and may seem less personal about their process. On the other hand, small schools may have multiple essay questions, required admissions essays and more steps to their application process.
"The key is always to approach your applications as though it is a recounting of your 'Greatest Hits,'" said Jon Frank, founder and CEO of Admissionado, a Chicago-based boutique admissions consulting company.
Essays Are Opportunities to Shine
"If you have an essay — or two, or three — to recount your 'Greatest Hits,' then you are lucky of course! More chances to express what makes you so special. If you don't have essays to write, sadly, you will need to instead work harder to express your Greatest Hits throughout the rest of your application."
If a student does have an opportunity to write an essay, then Cheryl Delaney, Senior College Advisor at International College Counselors, offers these tips for a student to "bring your voice to the table":
1. Step back and think about an essay from an admission officer's point of view. Be personal, but don't write an autobiography or conversely a report.
2. Students always want to portray a strong desire to attend and intent to enroll.
3. Students should mention specific programs they are interested in attending and why they will be a good fit for the school in which they are applying.
4. Avoid sweeping generalizations that could apply to anyone.
5. In terms of your activities or extracurricular list, make sure it focuses on areas where a student has committed the most time and depth of experience.
6. Take time to proofread. A student should have someone else he or she trusts look over a final application.
As for the differences between small and large schools, Kafi Martin, CEO and founder of Degrees of Success Inc., pointed out a few specific examples:
"Smaller colleges, like Amherst College, are very conscious of the close-knit community they'll be creating with their student body, and take more time to select the right student," Martin said.
"Multiple essays, longer essays and interviews with students, staff and faculty are the norm for these institutions. Their focus is on creating the right mix of outgoing, studious, social, creative, passionate and engaged students. They don't expect to find all of these qualities in any one student, so their goal is to find several students that have a few shared and highly desired traits."
On the other hand, Martin said, large schools, like Boston, New York or Syracuse University typically have more activities and choices for student and academic life, so "they are less focused on the finer details of any one student's life."
"A thriving student here is able to function well in very busy environments and is eager to carve out a path for themselves with support that is available, but not mandatory," she said. "Class sizes will be larger, dorms, dining halls and the facilities will be heavy traffic areas. Students should highlight their abilities to function independently and successfully while connecting with key resources for help when needed."
Heather Hiles, CEO of Pathbrite, a digital portfolio company, emphasized that diversity within essays is an important area for students to emphasize their strong suits. "Writing samples are extremely important," she said. "Depending on the discipline students pursue in school they can be imperative in evaluating a student's skills."
In her opinion, the ultimate college application would include a variety of opportunities for students' to express their unique qualities. "A combination of personal statements, creative writing and short answer responses would not only help students showcase their passions, but also give admissions officers a true sample of a student's writing," she said.
Frank said he couldn't agree more, adding that a student should work to consistently express his or her personality in a college application essay.
"After all, yourscores and statistics are just that — statistics," he said. "Essays are the only real chance you have to show your uniqueness, to express your real fit with the school, and to express your genuine approach — essays are your chance to stand out!"
Quick Tips
Use college application essays to express personality, and highlight unique interests or accomplishments.
Avoid using bland, sweeping generalizations in essays.
Make sure a list of extracurricular involvement focuses on areas with a depth of experience.
Use a college's application process to determine whether or not will be a good fit for you.
People Who Read This Article Also Read:
What Do I Need to Complete My Application?
10 College Application Tips You Need to Know
Top 3 College Application Worries
7 Common College Application Mistakes to Avoid
Advertisement
Visit Our Student Center

Get on track!
And find out everything you need to know about planning for college.
Advertisement