Job Interview Tips
The best interviewing tips for all types of job seekers.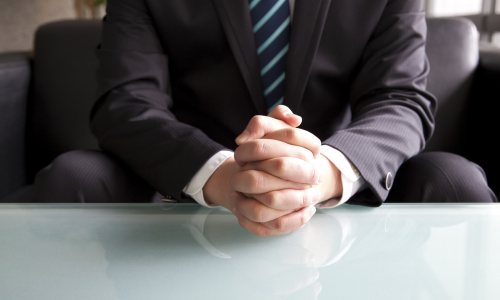 Photo: Thinkstock
By Adam Jazairi
Getting that call to come in for an interview can be as exciting as it is terrifying. Especially if you're new to the job search process, a hundred questions could be running through your head: How do I dress? What do I say? What should I expect? These questions can be daunting at first, but the following job interview tips to take some of the uncertainty out of the process.
Many interviewees get so stuck in their heads that they forget a crucial part of communication: body language.
2012 Job Interview Tips
1. Breathe.
Seems simple enough, right? But, honestly, it's one of the most important job interview tips we can give. Whether you're feeling nervous or not, a few deep breaths can make all the difference.
Before and during the interview, make sure you're taking deep, low breaths. This type of breathing is used by singers, actors and even yoga practitioners for maximum breath support and relaxation. It'll help you keep your cool and find your center during the interview.
2. First impressions last the longest.
And your outfit is the first thing they'll see. A lot of people make the mistake of thinking that there's a standard attire that will work for every interview, but sometimes you have to adjust to your environment.
For most interviews, a good suit works perfectly. This is especially true for jobs in business, finance and really any company with a typical office environment. Make sure to dress conservatively in this situation: navy, charcoal or black are good colors.
Of course, in some work environments, you'd look downright silly showing up in a suit. For more casual situations, chinos and a nice shirt should do the trick. Jeans might even be acceptable in some workplaces, but if you wear jeans to an interview, make sure to dress it up. A nice blouse for ladies or a button-down and tie for guys are good choices.
3. Actions speak louder than words.
Many interviewees get so stuck in their heads that they forget a crucial part of communication: body language. Especially in an interview, where you have a small amount of time to make a big impact, positive body language is one of the most important job interview tips to keep in mind. Here are a few do's and don'ts.
DO:
Sit with your back straight and your torso facing the interviewer.
If you're not sure what to do with your hands, rest them gently on your lap.
Cross your legs at the knee.
Maintain as much eye contact as possible.
Lean slightly forward (this will show interest in what the interviewer's saying.)
DO NOT:
Cross your arms.
Touch your face or hair.
Tap your feet against the floor or your fingers against the table.
Respond excessively to the interviewer (an occasional nod or "mhm" is fine, but too much makes you look like a bobblehead.)
Sway back and forth.
These may seem like obvious interviewing tips, but you'd be surprised what people do unconsciously when they're nervous. Stay alert, aware, and focused!
4. Nobody likes a rambler.
This one's especially important for newcomers to the job search process. Even if you follow all of the other job interview tips in this article, you won't get a callback if you don't know how to answer a question!
There are two major things to remember: stay on topic, and stay succinct. You want to keep your answers short and direct; these are the sort of qualities that interviewers love to see. After all, would you want to work with someone who takes ten minutes to answer a simple question?
5. Attitude is everything.
Of the job interview tips in this article, this one might be the most important. Employers aren't just looking for candidates with talent and a great resume; they're also looking for people who will be a pleasure to work with.
Think of a job interview as a date. No matter how great of a person you are, if you show up looking nervous and uncomfortable, your date is probably not going to be interested in you. The same thing goes for interviews. If you're confident, relaxed and self-assured, your interviewer will think better of you.
Now, you may think, how can I be relaxed when I'm terrified? Keep in mind one important thing: your interviewer wants to like you. They want to find someone that's perfect for this job. You've got the credentials, the skills and the personality, so why shouldn't that be you?


People Who Read This Article Also Read
Preparing for an Interview: Your Job Interview Checklist
10 Telephone Interview Tips
Weird Interview Questions You Might Encounter
20 Top Job Interview Questions and Answers

Advertisement
Visit Our Student Center

Get on track!
And find out everything you need to know about planning for college.
Advertisement