See All
Colleges >
Coping with Fish and Shellfish Allergies in College
Coping with Fish and Shellfish Allergies in College
How college students can avoid fish and shellfish allergic reactions at school.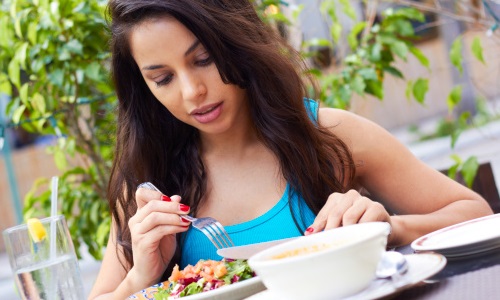 Photo: Thinkstock
As a child, "The Little Mermaid" and her friendly fish pals sang happy songs that made you want to wiggle right along with them under the deep blue sea. But a diagnosis of a fish or shellfish allergy can certainly change that perspective.
For a young adult who is about to embark on his or her first college experience, the promise of various food options can be even more intimidating if he or she is allergic to fish and shellfish.
Meet with the food service, health clinic and residence director so everyone understands what needs to happen in case of an emergency.
"The biggest concern for fish and shellfish allergies is cross-contamination in the kitchen and on the buffet at restaurants and cafeterias," said Tracy Stuckrath, President and Chief Connecting Officer at Thrive! Meetings & Events, a boutique event marketing company that educates the hospitality industry on how to accommodate different dietary needs. "When cooked, the proteins in shellfish become airborne, and for some food allergic persons inhaling the vapors can cause a severe allergic reaction."
According to The Food Allergy & Anaphylaxis Network, an estimated 2.3 percent of Americans — that's nearly seven million people — report allergy to seafood, including fish and shellfish. Salmon, tuna, and halibut are the most common kinds of fish to which people are allergic. Symptoms of a fish or shellfish reaction include: eczema, hives, asthma, anaphylactic shock and digestive symptoms.
"Colleges are rising to the task of working closely with families and recognizing that for students at risk for food-induced allergy and anaphylaxis," said Mireille Schwartz, founder and chief executive officer of the Bay Area Allergy Advisory Board. "The most important aspect of the management in the school setting is prevention."
Schwartz, who is allergic to fish, said there are four core issues to consider when making plans for dealing with a food allergy while at college: housing, cafeteria and dining plans, transportation in and around a new town (in order to drive to supermarkets and doctor appointments), and emergency response at your college campus.
"Some schools have their own private ambulance services and their own campus security team, so make sure to check with them regarding how they will handle an allergic emergency," Schwartz said. "Also, always be sure to carry your rescue medication when on campus."
Like Schwartz, Stuckrath recommends students and parents do their research before attending school, including these five important tips.
1. Understand Your Health Insurance
How will it be handled while away from home and what procedures should a student follow for claim submissions? A student should be sure to carry proof of insurance at all times.
2. Provide a Food Allergy Action Plan
The campus health director, dorm direction and food service director should all have a copy signed by a student's doctor.
3. Organize a Food Allergy Orientation
Meet with the food service, health clinic and residence director so everyone understands what needs to happen in case of an emergency.
4. Clarify Important Policies Regarding Medicine
If staff is not allowed to administer medication, find out what they can do to ensure that a student will get the care he or she needs quickly in the event of an allergic reaction.
5. Determine Roommate Assignments
A student should work with the residence life director to determine if he or she wants to have a roommate. If he or she does want a roommate, then the allergy should be communicated to the roommate to ensure he or she is comfortable with helping the student and will provide support if necessary. Once at school, Stuckrath said it is best for students to avoid areas of the dining hall where fish and shellfish are being cooked.
Students "also need to communicate with school officials, nurses and dining hall staff to make sure that fish and/or shellfish are not prepared, cooked or served in or on the same equipment as their non-seafood dish," she said.
Schwartz said careful label reading is also important, as well as a stash of "safe" foods that is kept in a dorm room or apartment. "If you have roommates, then they can help avoid cross-contamination in common food areas by thoroughly washing cutting boards, knives, and pots and pans. You can also provide your own kitchen items, if in doubt, and label them so they are completely allergen-safe."
Schwartz said students should also watch for hidden sources of fish and shellfish allergens which include burgers and steaks — "they are sometimes made with anchovy powder or barbecue sauce containing anchovy for enhanced flavor in restaurants."
Other possible contamination sources are Caesar salads, Omega-3 enhanced peanut butter, Worcestershire sauce and salad dressing.
"These years are important for you to gain independence in the 'real' world," Schwartz said. "While these challenges are scary at times, college life is a vital and healthy component of young adulthood with food allergies."
Quick Tips
Pay special attention to cross-contamination in restaurants, cafeterias and shared kitchen spaces.
Before starting school, consult with the administration and health professionals to review their process in the event of an allergic reaction.
Provide school officials with a Food Allergy Action plan that details your requirements should you go into allergic shock.
Carefully review labels and ask detailed questions at restaurants to avoid contamination as a result of hidden fish and/or shellfish allergens.
Quick Search: Find the College that's Right for You!
Advertisement
Visit Our Student Center

Get on track!
And find out everything you need to know about planning for college.
Advertisement