See All
Colleges >
4 Ways to Make the Most of Your Summer Before College
4 Ways to Make the Most of Your Summer Before College
Be ready for that first day of school with these tips for summer and having a blast before freshman year.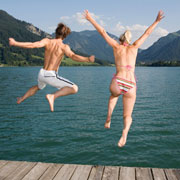 You walked across the commencement stage, got that fabulous diploma, and maybe even tossed your graduation cap in the air. You're a high school graduate! After the graduation parties and the congratulations settle down, you have several weeks before you start school as a college freshman. So, of course, you should spend those weeks being wild and free, right?
Not quite. Fun should definitely be part of your summer agenda, but there are plenty of things you can be doing in the weeks to come to make sure you're as prepared as possible for your first semester.
Have five people in mind who can be in your corner while you are in school. They can be anyone you think can really help you.
1. Remember, College is Coming
"Think about college," says Harlan Cohen, author of "The Naked Roommate: And 107 Other Issues You Might Run Into in College". It can be easy to get swept up in the whirlwind of post-graduation parties, movies, trips to the mall, and vacations that come with summer. But keep in mind that college is on your horizon and it's really not that far away.
Cohen suggests several questions every high school graduate should ask themselves before the first day of college: "What is it you're worried about? What are you concerned about? What are your fears? What could go wrong?"
Don't take these questions or start pondering them as worst-case scenarios. They aren't meant to provoke anxiety. Instead, if you figure out what you're most afraid of or worried about in college, you might be able to think of solutions to those problems.
Jason Zelesky, the Associate Dean of Students at Clark University, says, "College is a mental and physical marathon…it is an exhausting, exciting, draining and inspiring experience." Like with any marathon, it helps to establish healthy habits so that you are well prepared. "Start exercising, eating well, sleeping regularly, and working toward feeling like you are ready to meet all the demands of college life," says Zelesky.
Take this summer to browse the school's website and any booklets they send to you. And, get excited! You might want to try a new sport or volunteer for a cause. Whatever your passion or interests, start thinking about how they will follow you into your freshman year.
2. Set Yourself Up for Success
One of the biggest problems for incoming freshmen is that you're most likely coming into school with a small support network. You might know a few people -- or maybe you don't -- and you'll need people to help you along the way. To solve this problem, Cohen has a challenge for you.
Have five people in mind who can be in your corner while you are in school. They can be anyone you think can really help you. An older sibling, a residential adviser, a friend on Facebook, a teammate, an admissions officer, or a counselor would all be great choices. Think of these people as your team. They are going to root for you and help you figure out any issues that arise.
On top of that, learn about places on campus where you can turn for help. Figure out if your school has a tutoring or writing center. Where is the health center on campus and what services do they offer? Will you have an academic adviser? If you and your roommate end up hating each other, is there a resident advisor you can talk to? Make a list of important people and resources of places you can go for help.
"Do this before you ever set foot on campus," Cohen instructs. This way you'll be supported from the first day on.
3. Take Some Risks
During your first year in college, you'll end up taking a lot of risks. From taking a class in a subject you know nothing about to going to your first college party, risks are everywhere. Get in the habit of making smart but risky decisions in the summer before.
Tell your crush you like him or her! You might be thinking, what's the point? You'll be going off to different schools in a few weeks. "It's the perfect time!" Cohen says excitedly. "If you don't share now, when will you share? This is your last chance for a while to hang out."
Not ready to take a romantic risk? That's fine. Do something else. Try a new kind of food, change your hairstyle, add some bold wardrobe choices, or make a new friend.
4. Handle the Practical Stuff
Starting as early as July, you'll start to see the sales for dorm room items at many discount department stores like Target, Walmart, and Bed Bath and Beyond. Pick up one of those handy lists of things to buy, and get started! Don't wait until the last minute to start buying your dorm stuff because then you're more likely to forget something important.
"It's absolutely critical that you do everything that you need to do for the college you are going to," says Zelesky. "Read what they send you. Activate your college email. Skip vacation to attend your college orientation. Fill out the housing paperwork," he adds. Whatever your school advises you to do to prepare for freshman year, make sure you do it. You don't want to run into problems during move-in day because you forgot about some paperwork.
Above all, start packing early! Cohen suggests a system of three boxes, or piles depending on how much stuff you have. You'll need a "must have" box, a "might need" box, and a "need later" box. Only take the first box with you. If necessary, you can grab the other boxes on Thanksgiving or Christmas break. "You don't have to take everything in the world with you," Cohen says, "If you're missing anything, that's what one-day shipping is for!"
Cohen emphasizes the need to be patient once school starts. "It doesn't take two weeks and it doesn't take two months to find your way…it takes two years," he says. You're also probably not going to be 100% ready for every issue you face no matter how much your prepare during the summer.
If you're impatient with yourself and with the college experience, you're more likely to struggle and panic. Give yourself time to figure things out, and in the meantime, get involved! Be prepared, but don't forget to have a great time.
Quick Tips
Many people think that you have to dump your high school significant other before you head off to college. That's not necessarily true. A healthy, secure relationship doesn't have to hold you back, but make sure you have a life outside of that relationship.
Plan on getting involved in two activities during your first semester. You're more likely to make friends and feel like you fit in if you are involved in organizations or athletics.
Your school might have a list of things to do before graduation. University of Virginia keeps a pretty long list every year of fun things to do or accomplish before graduation day.
People Who Read This Article Also Read:
10 Ways to Earn Cash for College This Summer
Dorm Essentials: A Freshman's Dorm Checklist
Dorm Packing Tips for Every Type of Student
Make Yourself Ready to Hire This Summer
Advertisement
Visit Our Student Center

Get on track!
And find out everything you need to know about planning for college.
Advertisement