See All
Colleges >
Military Financial Aid Programs: the Basics
Military Financial Aid Programs: the Basics
How serving in the armed forces can fund your college education.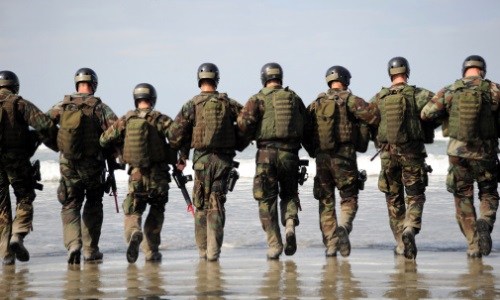 Photo: Thinkstock
The US Military offers a number of college financial aid programs to help students pay for school. Joining the Reserve Officers' Training Corps (ROTC) or enlisting in active duty in the military can earn you a significant amount of college money, whether you plan to continue in the military after college or not.
Once you determine the type of military commitment you'd like to make, you can learn more about the college financial aid opportunities available to you. Each military service has its own terms and eligibility conditions that students must meet to qualify for military financial aid programs.
The college funding offered to people in the military is not only for people on active duty.
In addition to offering an extensive program for college money, the military offers help in choosing a college program and help in translating your military skills into a non-military career field. In some cases, you can even earn college credit for your military service.
Who Is Eligible to Receive Military Financial Aid?
You are eligible to receive military aid to pay for tuition and related fees at colleges and universities in all branches of the military: Army, Navy, Air Force, Marine Corps, Coast Guard, National Guard and the Reserves.
The college funding offered to people in the military is not only for people on active duty. You can also receive college money in the Reserves, the National Guard and as a veteran, spouse of child of someone who has served.
What Types of Military Financial Aid Are There?
The college funding provided by the military comes in various forms. Some of the most common include the following:
The Tuition Assistance (TA) Program will reimburse up to 100% of tuition costs for eligible members of the Armed Forces.
The US Military offers several GI Bill programs to help pay for education costs and training.
There are millions of dollars in scholarships and grants specifically for military members and veterans.
States offer educational benefits for veterans and their families who are pursuing their education.
Military Financial Aid Programs Tips & Tactics
In addition to military aid, don't forget to complete your Free Application for Federal Student Aid (FAFSA) form to apply for federal aid and the CSS/Financial Aid PROFILE form to seek out state aid. Those who serve in the Armed Forces are eligible for federal aid in the form of educational grants and loans. Grants are considered gift aid and do not need to be repaid, and federal college loans offer very low interest, compared with private loans. If you still need to pursue private loans after receiving other forms of aid, remember to compare loans to get the best possible interest rates and repayment terms.
Combine your military benefits to get the most money for school. For example, the Tuition Assistance Program can cover your tuition costs, and military scholarships can be used to pay for books, supplies and other school items.
Interested in attending a military college or academy or a school with an active Reserve Officers' Training Corps? Learn more about these schools, plus thousands of others, with a Campus Explorer college search.
SOURCES: goarmy.com, gibill.va.gov, navy.mil, marines.mil
People Who Read This Article Also Read:
GI Bill Programs: the Basics
Active Duty Montgomery GI Bill
Selected Reserve Montgomery GI Bill (MGIB-SR)
Post-9/11 GI Bill: The Basics

Advertisement
Visit Our Student Center

Get on track!
And find out everything you need to know about planning for college.
Advertisement