See All
Colleges >
7 Colleges Where You Can Build a Snowman
7 Colleges Where You Can Build a Snowman
At these schools, you can build an awesome snow sculpture after (or instead of) hitting the slopes.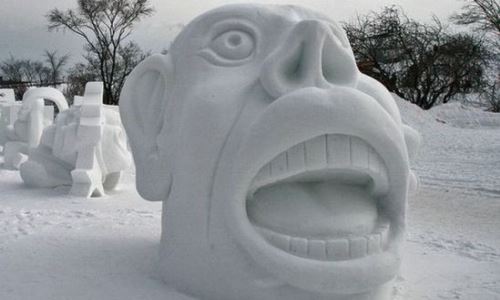 If you look at snow and see a blank canvas, you're not alone – students at these schools take snowmen and snow sculpture building seriously, and they have the pictures to prove it. Read on to see what kinds of cool creations you could make if you choose to attend one of these cold-weather colleges.
Getting to build snowmen and snow sculptures makes the cold weather at these colleges much more fun.
1. Dartmouth College
Located in the snowy city of Hanover, NH, Dartmouth College hosts an annual winter carnival that includes a snow sculpting competition. Impressive sculptures have included ships, castles, and awesome caricatures like the Cat in the Hat or an alumni favorite from 1951 (see picture below).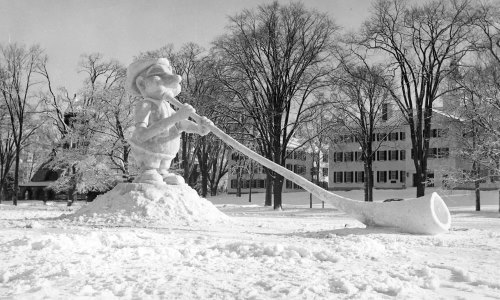 2. Sierra Nevada College
Located in the snowy town of Incline Village, NV right next to Lake Tahoe, Sierra Nevada College is located in the perfect area for skiers and snowboarders. However, those who have a more artistic flair can choose to participate in the school's snowman building competition instead. This past winter, one savvy student decided to give his little man a 'stache.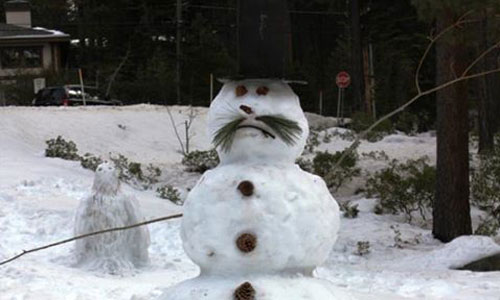 3. Macalester College
The twin cities are notorious for bringing on the snowy weather (they get about 49.9 inches a year), and Macalester College, located in St. Paul, MN, is right in the thick of it. These long winters give students plenty of time to come up with creative ideas for their next snowmen – for instance, ones that stand on their head.
4. Syracuse University
Syracuse, NY is pretty consistently named America's snowiest city, and Syracuse University knows how to act accordingly. Not only does the college have luxurious heated sidewalks on campus; they also host a winter carnival every year that features human dog sled races, cook-offs, relays, dance parties and – you guessed it – snow sculpture competitions. A group of clever seniors in 2011 built this calculator that reads "2 + 2 = Senioritis."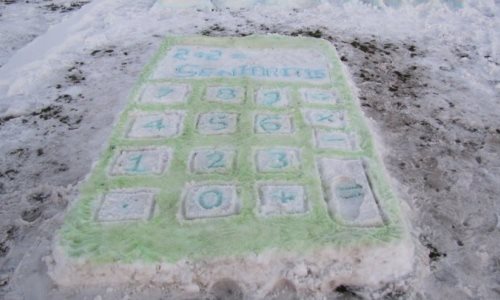 5. University of Denver
Named the snowiest big city in America by Forbes, Denver has an average annual snowfall of 60.3 inches, and the University of Denver takes full of advantage of this fact. The school's winter carnival became an annual tradition in 1961 and the flagship activity that year was an on-campus snow sculpture contest. Pictured here is a Marge Simpson snowman that popped up on campus during a more recent winter storm.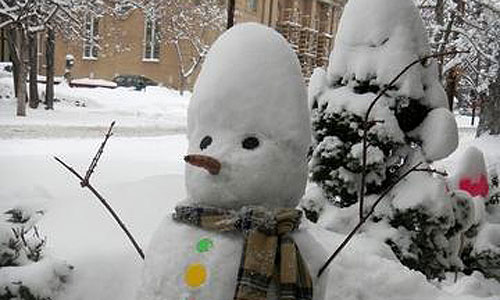 6. University of Utah
With an average annual snowfall of 58.5, Salt Lake City is just about as snowy as Denver, but this city in Utah may have a leg up – they're known for their beautiful dry snow, often referred to as "the greatest snow on earth." Sounds perfect for building a snowman on University of Utah's campus (like this one that students built on a school-wide snow day.)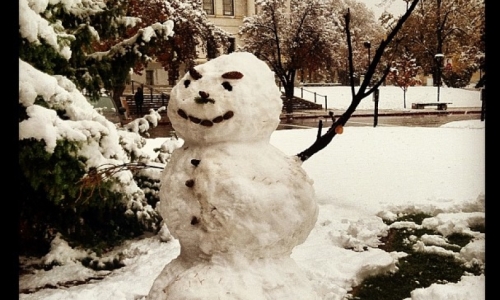 7. Middlebury College
Middlebury College, located in snowy Middlebury, VT, puts on an annual winter carnival that features a ski race, bonfire, ice show, hot chocolate bar and snow sculpture competition. Past students have built some really impressive sculptures like this awesome looking ice cream cone.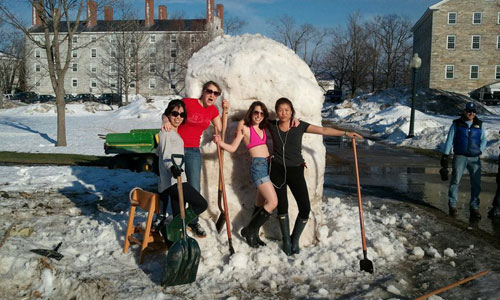 Getting to build snowmen and snow sculptures makes the cold weather at these colleges much more fun. We would recommend packing a few extra pairs of gloves and snow boots, though.
People Who Read This Article Also Read:
Best Colleges for People Who Love Snow
Best Colleges for Skiing and Snowboarding
6 Most Festive College Campuses
4 Colleges With Cool Holiday Traditions
Advertisement
Visit Our Student Center

Get on track!
And find out everything you need to know about planning for college.
Advertisement