See All
Colleges >
How to Choose a College Major
How to Choose a College Major
Selecting the right college major can get you on the right path to a rewarding career.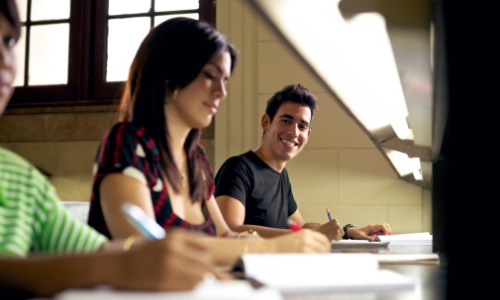 Photo: Thinkstock
Many students enter college without any idea of which careers they are interested in. While there is certainly nothing wrong with this – the majority of colleges don't require students to claim a major or degree program until their junior year – choosing a college major early can offer you some important benefits.
For one, knowing your intended major can help you select a university. Also, a clear career path provides you a better chance for graduating on time, since changing degree programs is always possible but may require taking additional courses during a semester or staying in college for an extra semester or two to finish up your coursework.
Making a list of your top priorities will shed plenty of light on which degree or major is best for you
So how do you know which major will end up being right for you? You have a lot of resources already at your fingertips to help you make the best choice for you.
Let Your Core Classes Help You Choose a Major
If you are still in high school, take a look at each of your classes and identify which ones you excel at and enjoy most. If you're going back to college after starting your career, think back to your best high school classes. This can help you identify your strengths and interests so you can narrow your list of possible university degree programs to a particular field of study (e.g. math, biology, journalism, etc.).
For those entering college without a chosen major, taking additional core classes can provide a broad overview of program topics. Often, more specialized core classes such as psychology or broadcasting are available beyond high school. If a particular field of study piques your interest, then using one of your elective credits to further explore the field might also be a good idea.
Prioritize Your Career Wants and Needs
First and foremost, a college major should be chosen based on your interests and career goals. However, it is not uncommon for students to select their majors based on the careers of parents or siblings. If following in their career path is not right for the student, then it will likely lead to an unfulfilling education and career.
When choosing a major, it is important to identify what aspects of a career are most important to you (money, creative freedom, helping people, working outdoors, etc.). Making a list of your top priorities will shed plenty of light on which degree or major is best for you. Also, talk to your parents and siblings about the choices they made and whether they think those majors and careers would be a good fit for you. They may be able to give you an insider's perspective on what you can expect from that path and whether you'd be likely to thrive in it.
Additional Tips for Choosing Majors
Seeking outside advice, not just from family members, is always recommended when choosing a college major. Talk with career counselors, high school teachers, guidance counselors and students who are currently enrolled at schools in a major you are interested in. Speaking to professors at universities or to professionals in the field can also give you a good idea of what you might expect from a career path that stems from particular majors.
There are also tests you can take that give insights on career matches, dominant personality traits and key interests. Myers-Briggs and Holland Codes (RIASEC) are two of the most common. While a test should not dictate your choices, it can offer you a new perspective on yourself and open your eyes to majors and career prospects you hadn't considered.
For additional help, use the Campus Explorer college search to find colleges by major. Our search tool can help you find college matches, whether you are interested in a 2-year college, four-year college or online college. This can not only help you narrow down your list of college choices, but also give you a head-start on choosing the right college classes, which will help you graduate on time.
People Who Read This Article Also Read:
3 Helpful College Search Resources
How Do I Find The Information I Need On These Huge College Websites?
How To Really Learn About A College
8 College Resources for Minority Students

Advertisement
Visit Our Student Center

Get on track!
And find out everything you need to know about planning for college.
Advertisement