See All
Colleges >
How Pell Grant Will Keep Up with College Enrollment
How Pell Grant Will Keep Up with College Enrollment
The rise in college enrollment means more federal aid is needed.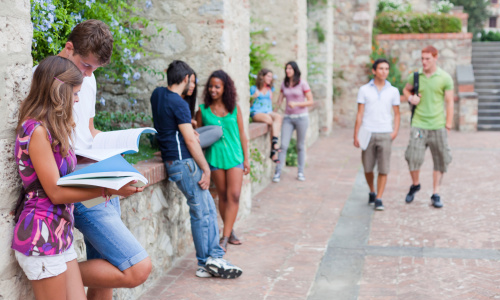 Photo: Thinkstock
There is good news and bad news regarding the state of the Federal Pell Grant program. The bad news first: With the recent rise in the number of people pursuing their college degree, the Pell Grant program is expected to cost over $18 billion more than the federal government expected it to over the next three years.
For students who depend on this federal aid to help pay for their college education, this news could be a cause for concern. Fortunately, there's good news, at least for students. According to an Associated Press article, students and their parents are not expected to be directly affected by this shortfall. The federal government will feel the impact, though, as they will have to struggle to come up with the additional billions needed for this important financial aid.
As part of President Obama's economic stimulus law, the maximum grant awarded was boosted to $5,550 for each college student.
An administration official who spoke to the Associated Press on the condition of anonymity said, "The administration is working with Congress to fill the gap, and we are committed to making sure the U.S. has an educated work force able to fill the jobs of the 21st century."
About the Federal Pell Grant Program
As the country's largest grant program, these college grants are considered the foundation of federal financial aid. The grant is intended to help lower-income families afford their education at colleges and universities; families who receive Pell Grants typically earn under $40,000 per year.
While it is common for these college grants to experience these shortfalls as well as surpluses, this potential shortfall is the largest the Pell Grant program has experienced in its 36-year history. Last year's shortfall was only $6 billion.
What Led to This Shortfall?
All eligible candidates can receive some money under this federal aid program. With college enrollment on the rise, the program risks being overwhelmed by the number of applicants.
Two primary factors are contributing to this financial shortfall in financial aid, according to Terry Hartle, who works as a lobbyist for the higher-education group The American Council on Education was interviewed for the AP article. Hartle cites the tough job market for sending an increasing number of students into colleges and universities. More education, or re-education, helps workers increase their job prospects, become eligible for more advanced positions or switch careers entirely.
The second factor Hartle names as a factor in the Pell Grant shortfall is the recent increase in Pell Grant funds. Hartle explains that Congress increased the amount of the Pell Grant in 2009, which changes the grant program's eligibility formula and makes more students eligible to receive this federal aid.
As part of President Obama's economic stimulus law, the maximum grant awarded was boosted to $5,550 for each college student. This was a significant increase, as the average increase in Pell Grant financial aid has been less than 6% in recent years. The government increased the grant as part of the economic stimulus plan to help students get the education and skills they need for jobs that are in-demand in this economy, as well as to encourage students to get a college education.


People Who Read This Article Also Read:
Federal Pell Grant Basics
Pell Grant Eligibility
Understanding Obama's Pell Grant Revisions
Pell Grant Can Be Used for Summer College Courses, Starting in Summer 2010
Federal Supplemental Educational Opportunity Grant (FSEOG): The Basics

Advertisement
Visit Our Student Center

Get on track!
And find out everything you need to know about planning for college.
Advertisement