See All
Colleges >
Changing and Swapping Rooms in College
Changing and Swapping Rooms in College
Sometimes your college roommate relationship just doesn't work out. Learn about dorm-room selection policies and how you can find a new roommate.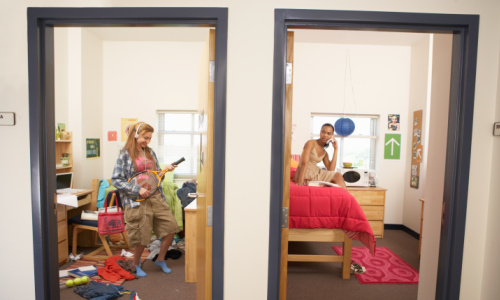 Photo: Thinkstock
Most universities require a minimum of one year in college housing to expose students to residential life on campus, as well as to people from different religious, ethnic and socio-economic backgrounds.
But learning to live with a roommate can be one of the more challenging transitions for new students. Many arrive at school never having shared a room. Others find it daunting to live in such close quarters with a stranger.
If you're truly in a bad spot, a room change may be worth the hassle, as unhappy dorm life can filter into other aspects of your college experience.
Getting Assigned Your College Roommate
Universities typically send accepted students a lifestyle and preferences form to fill out to ensure a good match, and typically those with similar sleeping, smoking and personal habits will board together. Still, no survey is a sure thing: No matter how great you get along, there are bound to be a few scuffles. Personalities clash, and even if you score an awesome roommate, he could leave mid-year and you will most likely be assigned a new one.
A Resident Advisor (RA) can usually help you work out the smaller kinks, but roommate relationships can go sour, and some differences can be dramatic. There might even be occasionally dangerous situations. If you're truly in a bad spot, a room change may be worth the hassle, as unhappy dorm life can filter into other aspects of your college experience. If you find yourself spending too much time dealing with the dramatics of a less-than-ideal roommate, it may be time for a switch.
Getting A New Roommate - Campus Housing Policies
Policies for switching rooms or roommates vary by university. Some schools like Loyola University in Chicago, allow students to room swap if they find other students to trade places with them, and even hosts "swap nights" for unhappy bunkers. Other schools require you to petition at the onset of the quarter/semester and still others take different precautions.
Here are a few universities that have differing policies:
At the University of Wisconsin - Madison, residents may request a room change on the first day of class. The first step is to stop by the Assignment Office in Slichter Hall and fill out a room change request card for either a double or a single room. Typically, room changes are not offered during the first week of the semester. After the first week, room changes are offered as spaces become available.
At the University of Florida, the Housing and Residence Education Department has five steps students are expected to follow: speaking to your roommate directly; asking the RA to intervene by meeting with all involved; meeting with a residence director or residence life coordinator to serve as a facilitator in resolving the conflict; and, if problems are not resolved, the situation is referred to a formal mediation and transfers may be required.
At Chapman University in Orange, California, students may request a room change at any time during the academic year for any reason, but the approval of an assignment change request is dependent upon space availability in on-campus housing.
To find out what your school's policy is, contact the Residential Life or Housing Department. Your Resident Advisor can also help you figure out where to go to apply for a change.


People Who Read This Article Also Read:
How to Get Along With Your College Roommate
Dorm Life 101
The Housing Lottery
Everything You Need to Know About Your Resident Assistants (RA)
Bad Roommates and College Roommate Horror Stories
How to Choose a College Roommate

Advertisement
Visit Our Student Center

Get on track!
And find out everything you need to know about planning for college.
Advertisement