See All
Colleges >
Getting to Know Your College Library
Getting to Know Your College Library
The library is more than just a place to study. Find out what kind of resources and services are available at your university library.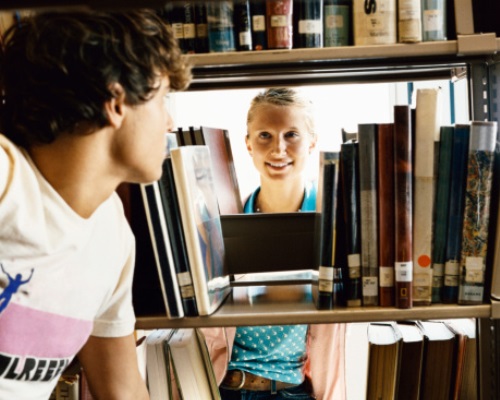 Photo: Thinkstock
The college library holds a wealth of resources and services not bound in books. From study spaces to resources, the library is the center of college life.
Getting to know your college library is one of the smartest things you can do in your early days (or before) of college life.
The better you know your library the more you'll get from your college academic experience.
Library Resources
College library resources aren't limited to books. Other resources include databases and journals specifically geared toward academia. The library staff is also a great resource as they can help you locate just what you need. Many are trained in research and cataloging science and can be invaluable aids in finding just that piece of academic material you're looking for.
Libraries are also often the repositories of unique and rare collections. The Beinecke Rare Book and Manuscript Library a part of Yale University's library system, for example, houses one of the 48 existing copies of the Gutenberg Bible, the first major book printed with movable type printing.
Many schools have multiple libraries. Amherst College lists a Music Library, Science Library, Visual Resources Collection, Center for Russian Culture, Folger Shakespeare Library, and Archive and Special Collections among its library resources.
The library may also be where you can find tutors for classes, special academic resources such as study groups and the campus writing center. Read more about campus writing centers here.
Library Policies
While you may be familiar with how a library works, you may find that a college library has slightly different policies due to the large and complex nature of its collections.
Some college libraries have a "closed stack" policy in which library visitors are not allowed to roam freely among the collection. In these cases, desired books or other materials must be specially requested.
Often, libraries will have a policy that certain materials are not to leave the library premises. These may be popular books or other materials needed by many students or rare or valuable materials that the library does not want to risk being stolen or damaged.
Online Library
The college library has joined the digital age. You can now access much of the library from your dorm room or off-campus housing.
Once you log on to your college website and find the library, you will likely find an online tutorial program that can help you navigate both the online library and the building. The University of Wisconsin, Madison, has "CLUE" as an online tutorial program designed to help students learn more about using the library.
The online library may help you search for a book and allow you to reserve it until you can pick it up. You may also be able to access databases as well as request materials from other libraries by using your school's online library.
Studying at the Library
Many students assume that the library will be their study ground. However, deciding whether to study at the library depends on the student.
Some students find their dorm room too filled with distractions to study, whether it is because of an obnoxious roommate or the temptation to get off task. Yet students going to the library to study might find themselves socializing with other students.
If you study at the library, find a space away from other students to maintain your focus. Comfy couches may seem appealing, but they can invite chats from other students.
For group projects and study groups, libraries often offer private rooms. This way, groups of students can gather and discuss without bothering individual students.
Fun at the Library
In addition to books and resources, the library can also be a place for entertainment. The modern college library often offers newly released books as well as magazines and even comic books.
If you're interested in films, they often offer DVD rentals (both classics and new releases) for either no fee or at a very reasonable rate.
Your college library is an invaluable resource. The better you know your library the more you'll get from your college academic experience.


People Who Read This Article Also Read:
What is a College Summer Reading Program?
College Summer School
Setting Up Your College Class Schedule
Getting Into College Classes
College Lecture Etiquette
The College Academic Calendar
College Transfer Credit Policy
The College Library and Academic Resources: What Schools Have to Offer

Advertisement
Visit Our Student Center

Get on track!
And find out everything you need to know about planning for college.
Advertisement