See All
Colleges >
Make Yourself Ready to Hire This Summer
Make Yourself Ready to Hire This Summer
Whether you are a high school, college or an adult student, it's time to snag a job in time for summer.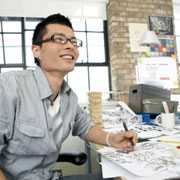 While vacations, flip flops and sunscreen are certainly all summer essentials, many students also have another important factor in mind: scoring a job. And the truth is, everyone's needs are different. High school students might seek a job that can better prepare them for college; college students might be looking for a paid internship. No matter your qualifications, there is one specific characteristic every job seeker has in common: the desire to get one. Here's how to find and earn an opportunity that will suit what you want.
Know How to Network
Isa Adney, author, columnist and higher education consultant, said the number one rule of thumb for getting a job today –– no matter your role at school –– is to network.
"Networking with alumni can be helpful on various levels as it may lead to a job opportunity or an insightful informational interview for an industry that a student is exploring."
"Seek out people in the jobs or companies you'd like to work for and ask for advice. Don't ask them for a job, but just seek to learn more about what they do, she said. "Then, once you've built a connection, let them know you are looking for a job in their area and ask if they have any advice for what you should do to get a job. If they have a job open they will probably want you, but if they don't they can also recommend other people you can talk to or other jobs you could apply for. "  

Discover Your Best Qualities
Rosalie Sabatino, assistant director of Career Development at Fairleigh Dickinson University's College at Florham, said it is important for high school students to look at opportunities that build up their skill sets.
"They can take part-time jobs, internships, volunteer opportunities to find out more about that particular work environment while also improving on the necessary skills that will be required for the workforce," she said.
As for college students who are getting ready to graduate, in addition to adult students and grad students, Sabatino said they should "all do an honest assessment of their strengths and weaknesses."
"They need to identify their competitive advantage so that they can make plans to differentiate themselves in the job market," she said. "At the same time, they need to look at weaknesses that they can begin to address with additional training and development. A marketable resume that showcases their skills and experience is important in order to get their foot in the door for an interview.
The last piece of the puzzle is to do mock interviews to hone their interviewing skills –– that is the make or break moment!"
Market Your Personal "Brand"
Sabatino said scoring a job can also come down to whether a student knows how to adequately "promote" his or her best assets. You can use the tenets of marketing to help you do position your skills and qualities to a prospective employer.
"The four 'Ps' of marketing are product, price, place and promotion," she said. "In this scenario, the student at any level is the product, and they need to have a strong understanding of the benefits and attributes that they have to offer potential employers. The outcome of their analysis can help with the product positioning aspect of their 'brand you' marketing plan. In other words, they have to figure out their unique 'brand' and their strongest selling points."
Get Tech-y
This point is especially important to adult students who may or may not need to brush up on modern day methods for earning a career opportunity, "To showcase their strengths and highlight their individuality, adult students are also encouraged to create online career portfolios and a professional LinkedIn profile," said Paula Bramante, Senior Vice President of Student Services at New England College of Business and Finance. "Blogs or personal websites are also unique ways that the adult learner can build an online professional reputation."
Theresa O'Neill, career counselor at Fairleigh Dickinson University said it is also important to still rely on old school networking tactics and seek out face-to-face opportunities, like professional associations.
"Student memberships are very affordable and they can be used for networking and keeping up with developments in your field," she said. Mindy Popp, managing director and principal consultant at Popp & Associates in Wellesley, MA, pointed out that these in-person opportunities can also be useful when meeting with alumni about career opportunities.
"Networking with alumni can be helpful on various levels as it may lead to a job opportunity or an insightful informational interview for an industry that a student is exploring," she said.
Quick Tips
Create a "marketing plan" for your strongest suits and practice pitching it as you would in an interview.
Network with professional associations, alumni and online outlets, like LinkedIn.
Don't be afraid to ask for advice from professionals who are already working in your desired field.
People Who Read This Article Also Read:
How to Find Your First Job
10 Job Search Tips for the Busy Job Seeker
How to Find a Summer Job
10 Ways to Earn Cash for College This Summer
Advertisement
Visit Our Student Center

Get on track!
And find out everything you need to know about planning for college.
Advertisement