See All
Colleges >
College Towns: Urbana-Champaign, Illinois
College Towns: Urbana-Champaign, Illinois
Learn more about Urbana-Champaign, Illinois -- Home of the University of Illinois.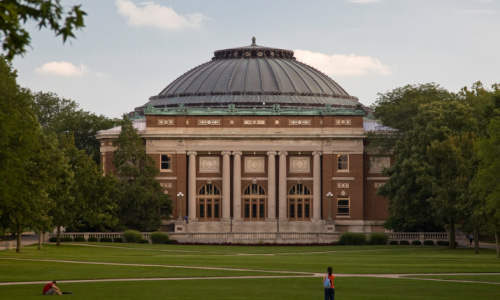 Photo: Thinkstock
The Town: Urbana-Champaign, Illinois
Two separate cities often treated as one, Urbana and Champaign are located in central Illinois, surrounded by farmland. Although the setting is rural, it's only a few hours from Chicago, Indianapolis and St. Louis, three of the largest cities in the Midwest.
On any given day, you can see students hanging out on the Main Quad, a giant grassy area connecting different schools and buildings throughout campus.
The biggest on-campus celebration of the year is Unofficial Saint Patrick's Day.
An elite engineering program, the school originally was almost named Illinois Industrial University. The school excels in far more than engineering, however, as it is consistently rated among the top 10 public universities in the country.
What to Do
Basketball is the predominant sport on campus. The Fighting Illini reached the championship game of the NCAA tournament in 2005. Assembly Hall is one of the iconic arenas in college basketball, thanks in large part to the "Orange Krush," the student section that always comes to the games adorned in orange outfits.
Notable alumnus Roger Ebert hosts a film festival the last week of April at the Historic. Whereas film festivals traditionally show films based on submissions, Ebert hand-picks the selections every year based on films he feels where underappreciated by the general public. Each year, one silent film is screened with a live orchestra providing the soundtrack.
The biggest on-campus celebration of the year is Unofficial Saint Patrick's Day. Held the weekend before actual Saint Patrick's Day (which usually falls during spring break), thousands of out-of-towners join the students in an all-day party with green costumes and green beer that starts at the crack of dawn and goes into the late hours of the night.
Where to Eat
Papa Del's on Greet Street (one of the major areas for food and nightlife in Urbana-Champaign) serves classic Chicago-style deep-dish pizza, complete with the sauce on the top. Be patient when ordering, though, as it generally takes 45 minutes to an hour to bake a deep-dish pie.
Did You Know?
The University of Illinois has the largest Greek system in the world.


People Who Read This Article Also Read:
The Top 40 College Towns in the US
College Towns: Fayetteville, Arkansas
College Towns: Oxford, Mississippi
College Towns: Tucson, Arizona
College Towns: Tuscaloosa, Alabama
College Towns: Cambridge, Massachusetts
College Towns: College Station, Texas
College Towns: Chapel Hill, North Carolina

Advertisement
Visit Our Student Center

Get on track!
And find out everything you need to know about planning for college.
Advertisement