See All
Colleges >
Campus Radio: Is the Internet Killing College Radio Stations?
Campus Radio: Is the Internet Killing College Radio Stations?
Learn how student radio continues to thrive and what kind of radio opportunities exist at your college.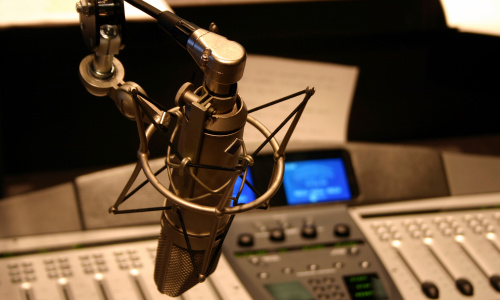 Photo: Thinkstock
One of the oldest traditions at colleges across the United States is campus radio. Despite the fact that the medium might not be as commonplace in students' lives as it once was, college radio stations are still thriving because of their integration of new technologies such as Internet streaming and podcasts.
If you're considering a career in media or broadcasting, college radio is a great opportunity to gain experience and add something to your resume. You'll be given a great deal of creative freedom in an exciting environment.
College radio stations are considered public radio because their backing comes from donations and grants. Your student government most likely will allot a specified amount of funding to your campus station each year.
What Do College Radio Stations Do?
College stations broadcast news and information pertaining to campus life. Due to the longstanding nature of many of these stations, they often become intertwined with the local community. At Drexel University in Philadelphia, Saturday jazz and reggae programs have been running for more than 30 years, in large part because of the city's large Caribbean population. 

You can do far more than listen to music if you turn on your campus radio station. The University of California, Berkeley's KALX provides live play-by-play for the school's sports teams and has weekly broadcasts providing updates and commentary about administrative decisions.
The University of Texas, Austin's KVRX hosts Lone Star Politics every week, which discusses current events and issues relevant to the city of Austin and the state of Texas. The program gives updates regarding city and state legislature that the local government is voting on.
The Internet and the Future of College Radio
With the prominence of the Internet, portable audio players, and smart phones, radio does not have the same importance in daily lives that it once had. Nevertheless, students are finding ways to incorporate these new technologies to keep up with the times.

KZSC, the official station for the University of California, Santa Cruz, streams all its programming online in addition to traditional broadcasting. Students can listen through the KZSC website or find the stream on iTunes.
Radio DePaul broadcasts exclusively online. However, if there's a show you missed, much of its programming is available as podcasts. You can download the show and load it to your computer or MP3 player and listen at your own convenience.
Check out your school's radio station and listen to some of the programming. If you feel like you'd like to contribute or have ideas to improve the overall quality, contact someone and get involved.


People Who Read This Article Also Read:
Dance Groups and Activities on Campus
Student Organizations: An Overview
Honor Societies on Campus
Environmental Groups on Campus
Student Religion: Religious Groups on Campus
The College Academic Calendar
Academic Competitions for College Students
How To Start Your Own Student Organization

Advertisement
Visit Our Student Center

Get on track!
And find out everything you need to know about planning for college.
Advertisement