Wyoming Colleges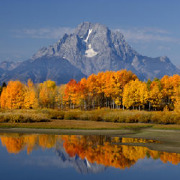 Wyoming, where the Great Plains meet the Rocky Mountains, is the least populated state in the country, but it still has more than a dozen colleges and universities. The largest city and state capital Cheyenne encompasses the entire county of Laramie where you'll find most of the community colleges and technical schools including WyoTech, Laramie . Also located there is the University of Wyoming, Laramie, which has earned recognition as one of the Best 366 Colleges, Best Western Colleges and Best Value Colleges. Interestingly, it is the only public 4-year institution in the state. The selection of 2-year colleges is much more complete with public colleges sprinkled in every area of the state from Eastern Wyoming College to Northwest College. The more centrally located, second largest city Casper is also home to a few Wyoming colleges including Casper College and Central Wyoming College.
Wyoming College and Degree Offerings
Students seeking a bachelors degree or masters degree from one of the Wyoming colleges will likely attend the only 4-year institution in the state University of Wyoming, which offers more than 100 majors. But in this unique state, the list of 2-year colleges outnumbers the 4-year options providing a wide range of opportunities for students looking for a shorter educational experience. Community colleges, 2-year business schools, beauty academies, medical technology colleges and more have certificate program and 2-year career training degrees available to prepare students to enter the workforce with specific skills. If the colleges in Wyoming meet your needs, the wide open state can offer a great educational experience.
Wyoming Career Opportunities
For graduates of Wyoming colleges that wish to find work in state, Cheyenne, in the northern part of the rapidly expanding Front Range Urban Corridor is home to most of the best job opportunities. Hospitality Management and Tourism & Travel Management along with the mineral extraction industry drive Wyoming's economy, but there is demand for alternate careers as well. Many hands-on positions like Welding Technology/Welder and Autobody Repair are popular. Casper, the state's second largest metropolitan area has more than 50 financial services and insurance agencies located there. So careers in Finance, Accounting & Related Services, Medical Insurance/Biller and Healthcare Administration are all top careers. Other healthcare services including Medical Assistant Professions and Nursing are also in demand. Staff shortages often occur in the educational system in this sparsely populated state. Some Secondary Education and Early Childhood Education professionals are recruited from across state lines, but graduates of education programs at colleges in Wyoming will be first in line for the best positions.
Top 10 Most Popular
Wyoming Colleges
Advertisement