See All
Colleges >
Medical Assistant Professions Colleges
Medical Assistant Professions Colleges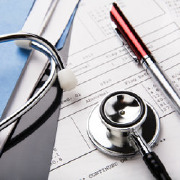 If you're interested in the Health & Medical Services field and call yourself a people person, you may want to consider the medical assistant professions major. Most professionals in the field work in doctor's offices, while others worth with specialists such as optometrists or veterinarians or hold positions in nursing care facilities, hospitals and clinics. On the job, medical assistants do everything from medical billing to changing dressings.
Medical Assistant programs are generally completed at technical schools, community colleges or online schools, but are sometimes completed at 4-year colleges and universities, too. Upon completion you'll receive a degree—either a 1-year certificate program or a 2-year career training associates degree.
In this major, you'll study science-based subjects as well as clerical-based subjects including anatomy, medical terminology, insurance processing, accounting, medical law, ethics, pharmaceutical principles and laboratory techniques. Many programs also include an internship so you can gain practical real world experience.
Other similar majors that might interest you include Anesthesiologist Assistant, Chiropractic Assistant/Technician, Clinical Assistant, Physical Therapist Assistant, Occupational Therapist Assistant, Emergency Care Attendant (EMT Abulance), Health/Medical Assisting Services, Pathology/Pathologist Assistant, Clinical/Medical Laboratory Technician, Pharmacy Technician and Respiratory Therapy Technician.
Find Schools Offering Medical Assistant Professions Degree Programs
Choosing a Medical Assistant Professions School
Medical assistant professions programs can be found at colleges and universities across the country. If you want to start working quickly, look for a 1-year certificate program. Your other option is to pursue a 2-year associates degree from a college, university, technical school or community college.
Some medical assistant majors focus on a specialty. If you're interested in something specific such as assisting an optometrist or working on medical insurance billing for example, you'll need to choose a school offering that specialization area. Internships can also give you an advantage when you enter the workforce, so you may wish to select a medical assistant profession degree program that will give you the opportunity to work at a healthcare facility or in a physician's office during school.
Find Medical Assistant Professions Schools
Medical Assistant Professions Degree Programs
Medical assistant professions majors can pursue two types of degrees. You can earn a 2-year associates degree from a community college, technical school, college or university or you can earn a diploma from a 1-year certificate program at a technical school or community college. Coursework includes both clerical- and science-based subjects. Students usually must complete an internship in a hospital, clinic or doctor's office before graduation as well.
You can begin a career as a medical assistant after completing a 1-year certificate degree program at a career college or technical school, but you can bet an associates degree will help you qualify for higher paying jobs. With a medical assistant degree under your belt, you can also advance to other careers such as nursing or medical administration through further education.
Medical Assistant Professions Degree Programs:
Online Medical Assistant Professions Degree Programs at Online Schools
If you prefer, you can achieve a medical assistant professions online degree. While you won't be able to test your skills at patient care, you can take distance-learning classes in medical terminology, insurance billing, medical computer applications and more. This is why many online medical assistant professions programs prepare you for careers on the administrative and business side of the field.
Online Medical Assistant Professions Degree Programs:
Online Medical Assistant Professions Schools
High School Preparation
During high school, you should focus on math, science and computer classes. People skills are also important for medical assistant professions so consider speech classes or the drama club. In this field, you may need to help patients who don't speak English, so foreign language skills can give you an edge. And finally, any part time jobs or volunteer work completed at a hospital, clinic, or nursing care facility will prove invaluable when applying to colleges or universities.
Find Schools Offering Medical Assistant Professions Degree Programs
Popular Careers in the Field of Medical Assistant Professions
Whether you graduate from a certificate program or earn an associates degree or online degree, you can expect excellent job prospects through 2016 according to the U.S Bureau of Labor Statistics. Medical Assistant Professions are predicted to be one of the fastest growing careers in the coming decade.
While about 60 percent of all medical assistants work in physician's offices, there are opportunities in hospitals, clinics and other types of settings such as a podiatrist's practice or a veterinarian clinic. Most medical assistants earn an annual salary between $22,000 and $31,000. Those working in general medical and surgical hospitals often earn the highest salaries.
In general, medical assistants are responsible for maintaining a well-run office or clinic, taking care of both office responsibilities and patient needs. Much of the work is clerical, but in some states clinical duties such as drawing blood and removing stitches are allowed. Other work includes handling insurance forms and billing, taking patient histories, preparing patients to see the doctors and checking patients in for appointments.
If you're interested in a particular specialty or type of medical setting, you may want to consider related careers including Physical Therapist Assistants, Occupational Therapist Assistants, Medical and Clinical Laboratory Technicians, Emergency Medical Technicians and Paramedics and Respiratory Therapy Technicians.
Find Schools Offering Medical Assistant Professions Degree Programs
Most Popular
Medical Assistant Professions Colleges
Advertisement