Art school can be expensive, so make sure you're ready to handle the cost.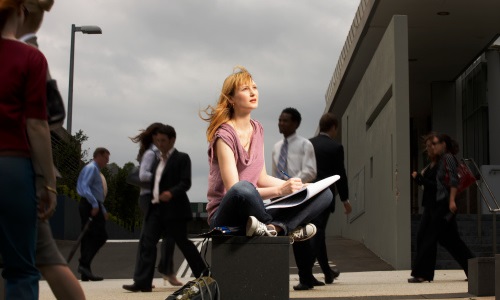 Photo: Thinkstock
Getting a degree in the arts can help you stand out among the crowd of other wannabe artists. However, that degree may come at a steep price. In fact, many art schools are among the most expensive colleges in the U.S.
So how much does art school cost anyway? Find out how much you'll have to pay in tuition and fees along with some savvy ways to save.
If you do plan on attending a pricey art school, have a plan in mind for how you'll repay any loans you need to take out.
Tuition Rates for Art Schools
When it comes down to it, it's pretty difficult to find an affordable option for art school. Most four-year art degrees come with hefty price tags. In fact, a report by the U.S. Department of Education confirms that several of the 25 most expensive schools are art schools, including:
Art Center College of Design: $39,672
School of the Art Institute of Chicago: $38,965
California Institute of the Arts: $36,997
Rhode Island School of Design: $35,991
Pratt Institute: $35,991
Ringling College of Art and Design: $33,946
School of the Museum of Fine Arts, Boston: $33,319
Maryland Institute College of Art: $32,712
Why is Art School So Expensive?
Although the schools listed above are the most expensive art schools, many other art programs have similarly high tuition rates. However, in addition to paying upwards of $30,000 a year for tuition, prospective art students also have to consider the other fees they'll have to pay if they get into one of these schools.
Take Pratt Institute, for example. This private art college in Brooklyn outlines how much students have to pay in addition to their tuition. Here's the breakdown of art school fees:
Academic/Activity Fees: $950
Technology Fee: $530
Room/Board: $11,600
Books/Supples: $3,000
Local Transportation: $1,200
Personal: $1,800
Health Services: $330
TOTAL: $19,410
That's right — students at Pratt Institute pay nearly $20,000 in fees ON TOP of their tuition. That's twice the cost of tuition at some state schools. With the cost of fees and tuition combined, the average net cost of attending art school is $42,000. It's critical that students take these additional fees into consideration when they think about how they're going to finance an art education.
BFA vs. BA
When looking at art schools, it's important to keep in mind that there are two types of art degrees. The first is a Bachelor of Fine Arts (BFA). This is a professional degree that orients students towards a specific arts profession. It's offered at the more expensive art schools like School of the Art Institute of Chicago. A BFA is the preferred choice for students who are really motivated to obtain a certain career in the arts. However, the high tuition rates create a real challenge for some students.
The less expensive alternative is a Bachelor of Arts (BA). This degree generally includes a broader variety of arts courses and is offered at many public state schools which have much more affordable tuition rates. A BA is a good option for students who aren't driven to a specific arts career but rather have a general interest in a career related to art and design in some way. For example, a student could get a Bachelor of Arts at Ohio's Kent State University for under $10,000 a year.
Cost of Art School Quick Tips/Facts
If you do plan on attending a pricey art school, have a plan in mind for how you'll repay any loans you need to take out. Fine arts degrees are some of the lowest-paying degrees available today with an average starting salary of just $35,600.
Those who plan to attend an art school should research their financial aid options. According to AOL's Daily Finance, 80% of art school students receive financial aid, with the average cost paid being about $22,000 to $24,000 a year.
Find out more about how to save up for art school by using our helpful financial planning tools.