Learn about how student-to-faculty ratios differ among colleges, and how to find the right match for you.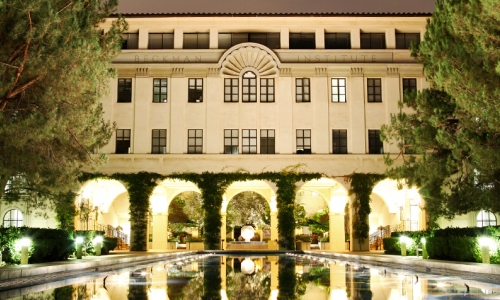 Photo: Wikimedia.org
The term "student-to-faculty ratio" refers to how many students are enrolled at a school compared to how many faculty members have been hired. For example, if a school's student-to-faculty ratio is ten to one, there are ten students enrolled for every one faculty member. A small student-to-faculty ratio means that there is a small number of students for every one professor; a large student-to-faculty ratio means that students far outnumber the professors.
Assessing your learning style will help determine how much a student-to-faculty ratio will matter to you.
Student-to-faculty ratios are generally indicative of class size, meaning that schools with low ratios tend to have small classes and schools with high ratios tend to have large ones. Many people view a low student-to-faculty ratio as an indication of a good education because it often means that you get more one-on-one time with your instructors. Students at schools with small ratios tend to receive a lot of individualized attention and hands-on learning experiences.
Here's a breakdown of how your learning experience may differ at schools with small, medium, or large ratios.
Small Ratio Experience
Schools:
California Institute of Technology (3 to 1 ratio)
Rice University (4 to 1 ratio)
Princeton University (6 to 1 ratio)
Yale University (6 to 1 ratio)
Columbia University (6 to 1 ratio)
At schools with ratios like these, your classes will generally be small, hands-on, and discussion-based. You're likely to have a lot of interaction with your professors both in and out of the classroom – you may even find yourself having lunch with a teacher or developing a mentor-mentee relationship with him or her. These are schools where you can't get lost in the crowd.
Medium Ratio Experience
Schools:
University of California, Berkeley (17 to 1 ratio)
University of Michigan, Ann Arbor (16 to 1 ratio)
Northeastern University (13 to 1 ratio)
Michigan State University (16 to 1 ratio)
University of Maine (15 to 1 ratio)
At schools with medium ratios, you'll probably find that your classroom experience varies from course to course. Some classes will be bigger and some will be smaller, depending on the type and level of the course (for instance, intro level courses tend to be larger). You may have to be more proactive about building relationships with professors than you would at a small-ratio school, but it can still be done. At these schools, you can also try to tailor your experience to your preferences by enrolling in either smaller or larger classes.
Photo: Berkeley.edu
Large Ratio Experience
Schools:
University of Central Florida (31.5 to 1 ratio)
California State University at Long Beach (22 to 1 ratio)
Florida International University (26 to 1 ratio)
Texas A&M University (22 to 1 ratio)
Arizona State University (23 to 1 ratio)
If you go to a school with a large ratio, you'll likely have classes in big lecture halls with very little professorial contact. Your courses may be taught by a teacher's assistant rather than a professor, and you'll often be broken down into smaller groups within a classroom in order to complete assignments. You can get a good education at these schools, but you're unlikely to receive a lot of individualized attention, so you'll have to put in more effort to get the most out of your courses.
In order to determine how much a student-to-faculty ratio should matter to you, assess your learning style. If you learn best when you're engaged in a small, round-table discussion or in a hands-on environment, consider attending a school with a low ratio. However, if you're the type who prefers absorbing information from lectures while sitting in the back row (and taking good notes!), a high student-to-faculty ratio may be just fine for you. Remember, what matters most in your college search is finding a school that will fit your personal preferences, needs and goals, empowering you to succeed.