See All
Colleges >
Financial Aid Advice for Adults Going from Careers Back to College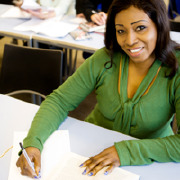 Financial Aid Advice for Adults Going from Careers Back to College
Learn about the best ways to pay for college if you're an adult student returning to the classroom.
Today's job market is leaving a large number of people choosing to go back to college to reeducate themselves, either to advance in their careers, preserve their careers in an increasingly challenging job market or learn new skills in a new career field in order to pay the bills after having been laid off from a job.
While transitioning from a career to college can be difficult in terms of adjusting to the schedule, lifestyle and demands of college courses, figuring out how to pay for college costs like tuition can be especially challenging. Fortunately, there are a few simple ways to prepare yourself for the cost of going back to college.
If you are embarking on your college degree, finishing up your college degree or seeking an additional degree or certificate to expand your career opportunities, read on for advice on how to make the most of your financial aid opportunities.
1. Apply for federal aid.
Federal aid is the country's largest source of financial aid. Fortunately, there is just one form required for applying for all federal aid: scholarships, grants, college loans and federal work-study programs. Between January 1 and June 30, you can complete the Free Application for Federal Student Aid (FAFSA) form, which is required for federal aid. Complete the form as early as possible, since some financial aid is awarded on a first-come, first-serve basis.
Read more: How to Apply for Financial Aid, Are You Eligible for Federal Financial Aid?, How to Complete Your FAFSA
2. Find scholarships.
Don't be discouraged when you start looking at college scholarships. While many of them are geared toward high school seniors, or you don't fulfill the requirements (either because you're not going to school full-time or your income and assets mean you don't qualify for need-based scholarships), there are scholarships available for adult learners going back to college. If you're employed, find out if your employer offers scholarships for employees who pursue higher education. If you belong to any professional associations, see if they offer scholarships. And lastly, contact the financial aid office of the college or university you plan to attend to find out about their scholarship programs.
Read more: Scholarship Basics, How to Find Scholarships, How to Apply for Scholarships, Scholarship Tips, Beware of Scholarship Scams
3. Be smart about college loans.
If you plan to stay in your career field, you know what kind of salary you can expect to make, so be sure you don't agree to a loan you won't be able to pay back. If you're getting an education to enter a new career field, research salary ranges to help you choose your college loans. Look for loans with low interest rates, and read the fine print on repayment plans and loan limits to find the college loans that are best for you.
Read more: Borrowing Basics, Borrowing Tips, How to Keep Debt Low, Different Types of College Loans, Managing Your Loan Information, 10 Facts About Repaying College Loans
4. Find out if you qualify for tax credits.
If you're going back to college in 2010 and are going to be enrolled in an undergraduate program at least half time, you could be eligible up to $2,500 per calendar through the American Opportunity Tax Credit. The Lifetime Learning Credit, which can only be used for college tuition and related fees, was created to help improve or expand job skills. It can be used for a degree program or just a single course at any level, undergraduate, graduate or professional.
Read more: Tuition Tax Credits, The Hope/American Opportunity Tax Credit, Lifetime Learning Credit
5. Ask for tuition assistance from your employer.
Many companies provide tuition assistance for employees who want to pursue higher education. In some cases there are restrictions, such as the courses you take being directly related to your career. Contact your human resources department to find out if your company offers education benefits. If you were laid off or anticipate that you could be laid off, find out if education or retraining benefits can be added to your severance package.


People Who Read This Article Also Read:
How School Has Changed: A Guide For Adult Students
Making The Choice To Go Back To School
Adult Student's Study Guide
Back To The Dorms: Adult Students Who Live On Campus
Full-time vs. Part-time: Which is Best For You?
College Scheduling: Night and Weekend Classes

Quick Search: Find the College that's Right for You!
Advertisement
Visit Our Student Center

Get on track!
And find out everything you need to know about planning for college.
Advertisement