See All
Colleges >
Certificate Graduates' Salaries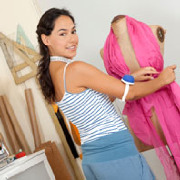 Certificate Graduates' Salaries
Find out the highest paying jobs that only require a certificate.
Mostly everyone is aware that having some postsecondary training can greatly improve your job prospects.
But not everybody knows that all certificate programs are not created equal. You need to be discriminatory about which program you choose if you are looking for one that will lead to a prosperous career.
Certificate Graduates' Salaries
After graduating from your certificate program, your salary is going to depend on two factors: the location and your employer. While a medical doctor is bound to make more money than a teacher, their pay rates will vary depending on where they live and what company they work for.
However, there are certain jobs that require only a certificate that can provide a lucrative pay off across the US. These careers are typically in technology, health & medical services and skilled trades.
Highest Paying Jobs with a Certificate
Computer specialist, all other...$77,000
Radiation Therapist...$74,200
Nuclear Medicine Technologists...$67,900
Dental Hygienists...$67,400
Nuclear Technicians...$67,300
Commercial Pilots...$65,800
Fashion Designers...$64,300
Registered Nurses...$63,800
Diagnostic Medical Sonographers...$63,00
Engineering Technicians, Except Drafters, All Other...$57,500
Telecommunications Equipment Installers and Repairers, Except Line Installers...$55,600
Insurance Appraisers, Auto Damage...$55,400
Funeral Directors...$54,400
Respiratory Therapists...$53,300
Geological and Petroleum Technicians...$53,200
Radiologic Technologists and Technicians...$53,200
Commercial Divers...$52,500
Electrical and Electronics Drafters...$52,100
Avionics Technicians...$50,600
Occupational Therapist Assistants...$50,300
People Who Read This Article Also Read:
What Are Certificate Programs?
Is a Certificate Program Right for Me?
Online Certificate Programs
What Types of Schools Offer Certificate Programs?
Paying for Your Certificate Program
20 In Demand Certificates
Earning More Than One Certificate
Career Prospects with a Certificate

Quick Search: Find the College that's Right for You!
Advertisement
Visit Our Student Center

Get on track!
And find out everything you need to know about planning for college.
Advertisement